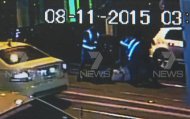 Seven News has obtained exclusive footage of an apparent violent attack on a man outside a Melbourne club on the weekend. Photo: Supplied
Bouncers at a high-profile Melbourne venue have been caught on camera bashing a man in the early hours of Sunday morning.
An argument between a patron in a white shirt and security staff turned into a fist fight that spilled onto Commercial Rd.
CCTV footage shows violent fight. Photo: Supplied
The victim was pushed further away then dragged onto the road as bouncers kicked and punched him as he lay defenceless on the ground.
The apparently unconscious victim was then left on the road as security staff returned to the door of the hotel.
Stunned bystanders rushed to help the man.
Besides, you will be interested to read about watch prices.
Fight between patron and bouncers at The Emerson escalated quickly. Photo: Supplied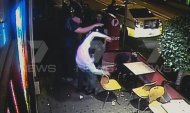 It's the second heavy-handed encounter at The Emerson this month.
Just two nights earlier a patron, who apparently spat at bouncers, was slammed into a postbox and then shoved to the ground.
Emerson contracts its bouncers through Montel Security, which didn't return calls today.
Driver jailed after revenge attack on bouncers
Earlier this year, a man who drove his car into a group of people outside a nightclub after he was refused entry was imprisoned.
Disturbing video captures Christchurch bouncer putting patron to sleep in chokehold
In Christchurch, disturbing video emerged of a pair of bouncers leaving two men unconscious outside a city bar.
The video shows two men arguing, shoving and pushing bouncers before they were put into headlocks and left unconscious on the ground.
Video Disturbing video captures bouncers choke-holding patron, knocks-out another.
Man bashed and stabbed by bouncers
In April, up to ten bouncers faced serious assault charges after a knife wielding patron was chased, violently bashed and stabbed with his own knife.