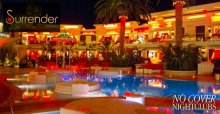 NIGHTS OPEN: Wednesday, Friday, & Saturday
LOCATION: The Encore Hotel & Casino
Guest List Sign Up Ends at 8:50PM
How The Surrender Guest List Works
Surrender Nightclub has established itself as one of the hottest nightlife destinations in Las Vegas. It has a unique indoor/outdoor layout that makes it different among clubs along the strip. The interior is focused on the elevated DJ booth which brings the hottest EDM performers to the forefront. Below the 120-foot long snake that runs the length of the club, partiers will find the main bar. Exploring further into the club guests discover the luxurious outdoor environment. Multiple cabanas and table area surround this one-of-a-kind world. A special gaming area is present directly across the pristine waters. Guests will find multiple bars and places socialize throughout the night. The music and production fuels each event, and the dancers strategically placed throughout the club add to the energy.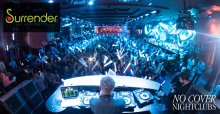 During the summer months you will find weekly EBC at Night and Nightswim parties on Thursday night. These special occasions mean you get to have all the nightclub fun with access to the amazing pools.
How To Get To Surrender
The entrance to Surrender Nightclub is located at the edge of the casino area, and the lines for entrance typically extend down the center of the gambling area. Whether you valet or use the Encore's self parking garage simply head to the middle of the casino floor and you'll spot the Surrender entrance.
Encore Hotel Address: 3131 S Las Vegas Blvd
Surrender Dress Code
Dress code is required to ensure entry into Surrender Nightclub, especially for men. To avoid any problems getting into the club it is recommended that men wear nice pants or jeans, a collared shirt or sport coat, and dress shoes. Please avoid shorts, sandals, hats, and athletic attire. If you are not sure if your clothes will pass the dress code play it safe and dress nice. We've also put together a list of what shoes meet the dress code. Women can almost get away with anything they want; however, we have seen instances where flip flop sandals were looked down upon. A cute or sexy dress that fits your body type with a nice set of heels will always work. See more Las Vegas fashion advice for women. On Thursday nights during the summer guests can wear either nightclub or pool party attire. So on these nights swimwear is wanted.
Nightclub Drink Prices
Beers & well drinks $8, shots and branded drinks $12 – $15, top shelf and energy drink $15+. Also note that water is not free and bottled waters usually go for $7.