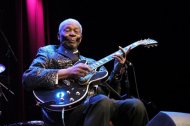 The one and only B.B. King playing at House of Blues last year
Tyler King
Texas music bleeds the blues, but finding a place to enjoy them in the Dallas-Fort Worth area seems nearly impossible these days. A younger generation of rising stars like Jason Elmore and Larry Lampkin make their guitars moan the blues like masters Lance Lopez and Stevie Ray Vaughan once did. They were baptized in Texas blues. But where to find them on a Thursday, Friday or Saturday night around these parts? The blues have gone so far underground that Google Maps has a hard time locating the clubs on the map.
So until a blues lover with deep pockets opens up a five-day-a-week blues club or city leaders finally recognize Dallas' musical heritage with an annual FREE blues festival (and maybe a statue of Stevie Ray Vaughan, Freddie King and Blind Lemon Jefferson), we here at the Observer pooled together a list of blues bars/venues that still showcase these lonely blues guitar slingers.
1010 Houston St., Fort Worth
Located below the historic Park Central Hotel in downtown Fort Worth, Mambo's Tapas Cantina is a place where you can often find some raw local blues talent wailing away on stage. With art decorating the walls and TexMex offered until 10 p.m., Mambo's has been offering a combination of good music, food and booze since 1969. It might not be blues every night but on the nights the soulful music does appear, Mambo's intimate setting will have you feeling the blues.
112 S. Kentucky St., McKinney
"The feel of Memphis, the buzz of Austin and the spirit of New Orleans" describes this italian restaurant located off Kentucky and Virginia streets in McKinney. Since 2006, it's been offering the best live music in North Texas, with artists from every genre. Blues is often showcased in some form in this small neighborhood venue.
1230 W. Davis St., Dallas
Gene Autry once owned this historic concert venue. It's been hit by a tornado, rose from the ashes, became holy and then fell from grace. It's now opened to the public, offering memorable shows by some legendary artists. It's known as "the best 'listening room' in Dallas." It's a reputation well earned. Located off Davis Street in Dallas, the Kessler offers the perfect acoustics for a bluesman to wail.
3524 Greenville Ave., Dallas
This historic Dallas theater has been showcasing music off Lower Greenville since the '70s. Originally built to showcase the Golden Age of Hollywood movies, now every genre of artist can be found shredding onstage. Upgraded lights and sound system does add to the experience, but it's the historic feel of the place that really sets the mood. Blues is sprinkled through the lists of upcoming events, like Lucky Peterson on Friday, October 3. Like the Kessler, it's a historic place that's perfect for any genre and essential for the blues.