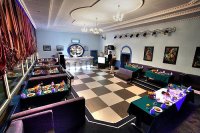 Discos and nights clubs were banned during the communist era. Therefore, there was no disco or night clubs, which run their operations independently in Ulaanbaatar City before 1990. But today hundreds of discos and night clubs operate in Ulaanbaatar where young people spend their spare time there.
These are the most famous night clubs in Ulaanbaatar that are often visited by foreigners. Oasis Club, Strings, Collective Night Club, Silence, Info Club, The Steppe Inn, UB Palace ….
UB Club
The UB Club can be found on Tourist Street and is another venue popular with UB's student community. The club offers regular live music sets, which mainly consist of R 'n' B Hip Hop and Rap bands. The food and drink menu is also generally pretty good too, offering a range of tasty appetizers and main courses. The club also has one of the best pool tables in UB.
Oasis Club
Situated just north of Seoul Street, this modern club is small but a cool nightspot for young and beautiful. Entrance is free to Mongolians but 2500Tg for foreigners. The music is eclectic to say he least but normally maintains a steady beat of either dance or pop. Drinks work out about 2000Tg for a beer (Heineken, Bud or Mongol) and a little more for a shot of whisky. It's got a modern cool pseudo-arabic crossed with city chic decor and there are two curtained off areas you can reserve for a private party. Otherwise you can lounge in the large sofa areas or take a stool at the bar area. A regular haunt of travelers and especially the Peace Corps crowd – and even though it's runs by an expat, it also invites its fair share of locals which tends normally to be beautiful women and 50cent-a-likes. Unfortunately a night in Oasis would not be complete without either the police shutting it down for a few minutes around midnight or a fight. The security has a habit f being less than effective and last time I went there I was told I'd just missed a mini-riot. But despite these unfortunate regular occurrences, Oasis is one of the top nightspots in UB.
Strings
"Strings" can comfortably seat up to 150-200 guests. The interior is designed according to Western style. It invites you to come over and taste our appetizing western cuisine and party with the local band. They provide you with kind and pleasant service.
Locaton:
"White House" Hotel, Amarsanaa Street
Direction:
It`s located White House hotel near "Od" movie theater. Shows:
- Mongolian folk cultural live show
- Live entertainment by Filipino band
- Wide array of appetizing western cuisine prepared by skilled German chef.
- Ulaanbaatar`s premier western designed entertainment and dining outlet.
Collective Night Club
The Collective is situated one block north from the White house Hotel. The decor is ok and the bar serves the usual suspects. Not particularly foreigner friendly, the few occasions I've visited this place has usually involved some pissed local, trying his luck and our beer.
The club is a Russian owned place and the owner/manager is reasonably friendly. As per usual they turn a blind eye to the ruffling up of foreigners … as long as the doorman lets you in, in the first place. Go somewhere else, there's plenty to choose from. AVOID!
You strike me with a pain as bright as steel! The Collective should change it's name to The Selective, ironically some of the cliental look like they should be in Star Trek as well.
Silence Night Club
Latest music, talented DJ and nice atmosphere Service: techno and mixed house techno and latino mixed music
Admission: Friday and Saturday
Woman- 3000 tog; Man- 5000 tog Open: 10 p.m – 4 a.m
To be honest I've only been here twice and both times were crap! It's a pretty dark place and lacks things like people to pad out the decor and make the club a good night out. The music is a mix of 80's pop and dance/ trance music.
Watch out for the bar staff, who have a reputation for over charging customer bar tabs, don't go there too drunk, and if the Police come in asking for money or your passport, tell them to shove it.
The drinks aren't too expensive (nothing you wouldn't expect from a club in London)! The food menu is ok, and they do a particularly good barbeque during the summer months, which I haven't tried. The restaurant is also popular at weekends and during the day for it's appetizing lunch menu.
The club is situated opposite the Dublin bar on Seoul Street if you miss it, you'll see it when you hear the locals trying to kicking the door down to get in!
Info Club
The info club is a well established bar and restaurant and is a regular spot for the Mongolia's youth and student Genre! The bar has regular live bands, that are generally pretty good to boot! Playing music from a variety of genre's, the "Lemon's", who are a popular Mongolian Indie cover band make regularly appearances at the club. The radio station 102.5FM is also run from this club and airs much of the live music direct from the stage.