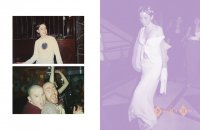 Fiona Cartledge's Sign of the Times Courtesy of Steve Terry and Wildlife Press
If you were at the cult London boutique Sign of the Times (SOTT) – or any of its raving club nights – in the 90s, you would have doubtless bumped into an array of legends – from Björk, Pulp, Courtney Love and Bobby Gillespie to Steven Meisel, Alexander McQueen, Kate Moss and Leigh Bowery. "Everyone seemed to come through those doors", says former SOTT shop assistant and Turner prize-winning artist Jeremy Deller, in one of three interviews recorded for a new photography book, Sign Of The Times. Authored by SOTT founder Fiona Cartledge – a champion of British subculture and one of fashion's unsung heroes – the book assembles unseen archive photographs and anecdotes, which capture the iconic personalities, DIY creativity and open door policy of the alternative boutique and its heady parties, born out of a humble market stall in Camden.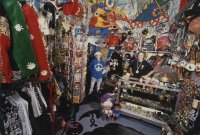 Officially incarnated in Kensington Market, SOTT's second outlet was across the road in a young designer's emporium, before it finally became a standalone store in Covent Garden. Offering a jumble mix of independent labels, fanzines, mix tapes, toys and gig tickets, from its early days in the acid-house boom of the late 80s through to its closure in 1996, SOTT was the go-to spot for clubbers, stylists, designers, DJs, artists and pop stars alike. "Culture was hugely independent" at the time, says Steve Terry, who helped Cartledge assemble the book under his alt publishing house Wild Life Press. "Big business hadn't cashed in on the underground. There was no global networked economy – the scene was truly word of mouth. Sign of the Times was like a club-house where people met up to find out what was happening and pick up a top for that night's party." Documenting this influential scene, Sign of the Times captures the zeitgeist of an ingenious establishment that occupies a pivotal place in fashion and club history.