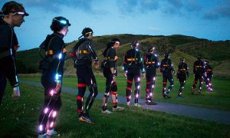 Speed of Light in Edinburgh. Photograph: Murdo Macleod
Maybe it's the frequent eschewal of a Sunday lunch in favour of a solitary run on a bitter winter's day, or the cliched image of the running-club know-it-all declaring: "Water from the tap, a dab of Vaseline – that's all the equipment I've ever needed!" Or even the smugness of race-time chat down the pub and, increasingly, via social networks. Whatever it is, things in running are beginning to change. Just as the community was starting to divide into those who continue to chase the highs of a new personal best and those who simply enjoy the head-clearing pleasures of a brisk jog around the park after a tedious desk-bound day, running events are seeking to unite the two. Running is no longer something we do instead of partying, it's becoming the party itself: we are witnessing the rise of the rave run.
Next month, on a dark night in east London, thousands of women will take to the streets and run 10K through the city, accompanied by a light show and music. We Own the Night, an after-hours event organised by Nike, will start in Victoria Park and end with a party. It has been described as "much less like a run and much more like a party, with lights, installations, smoke machines and music". Organised via Facebook and the Nike+ running app, it includes six-week training plans, regular training runs and "Train to Run" workout sessions in London, along with constant online support. The concept is similar to the Electric Run, a series of nighttime 5K and 10K runs with lights, lasers and music put together by lighting designers more usually to be found putting together shows in Vegas and for Dreamworks Animations.