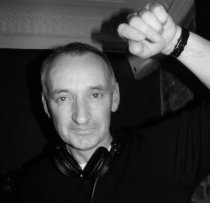 It's fair to say that unless the bomb of mandy your mate mischievously dropped in your pint is triggering some sort of nostalgia based trip, you don't usually expect to glance at the decks in a Dalston night club to see a legendary 1980s former Scottish international footballer dropping rewinds on indie classics.
It was just the other day someone forwarded me a Facebook event page for a clubnight called Scared to Dance at The Moustache Bar in East London, with the headliner quite clearly stated as DJ Pat Nevin. In an era of Chet Faker's, Com Truise's and Joy Orbison's, I was pretty sure it was an unsubtle gag by some absolute joker. I had horrible flashbacks to remembering King Krule's brief stint as DJ JD Sports and an unnamed VICE staffer doing the rounds as DJ Lee Dixon. Gripped by terror, it only took a few clicks to discover that no, it was the real Pat Nevin - the 51 year old former Chelsea and Everton player, sometime Match of the Day pundit, and BBC correspondent - and this was by no means his first set.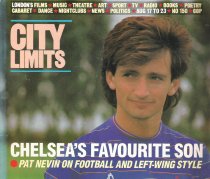 I got in touch with Pat as he was prepping for a Newsnight interview and a feature on The One Show but he kindly agreed to find time for me, obliging with the level of charm and chat you'd associate with the Glaswegian uncle you only get to see on Boxing Day.
It turns out that Pat Nevin is basically the original "hipster footballer", and this is what he told me.
Noisey: Pat, I've watched you on Match of the Day, I've listened to you on 5 Live, and my dad used to wax lyrical about you playing for Chelsea and being an absolute wizard. Since when were you also a hyped East London indie DJ?
Pat: Oh, I've been DJing for years and years. Forever really. I come from Glasgow, and before I left it was a hotbed of music. The whole Postcard Records thing was blowing up, and things were really happening. I had been listening to John Peel since I was 14, every night lying on my bed with headphones on. I was just a muso, that's all I was. Eventually I started DJing. Even when I was playing football for Chelsea I was doing it. Although, when you are playing football you can't be spinning tunes until 3am in the morning, because you have to take care of yourself a wee bit. I'm asked loads now, and can only accept about 1 in 5 of the offers I get.