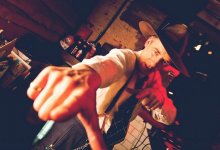 Throwing it back to the 90s cult classic 'The Craft', The Book Club in Shoreditch officially goes goth with a themed club night with a film screening and jewellery workshop – what more could you want? Find a
For those who dare, ramp up the fear factor with Fright Night at Thorpe Park. A stones throw out of the capital, this jam-packed fright fest is filled with after-dark roller coasters and spine-tingling horror mazes – truly terrifying experience!
Taking in the eerie sights of the city, all year around London plays host to various Ghost Walks down in the dark shadows and alleyways. This Halloween creep along the towpaths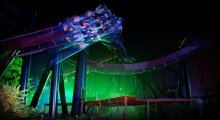 And my last recommendation is (of course) a foodie suggestion. Set in the cellars of a Georgian town house, feast your eyes Disappearing Dining Club special edition menu for their Slaughterhouse Supper Club. Dine on delights such as scallop hotdogs with pig's blood ketchup, blood orange eton mess with many other tasty tricks in store…
We would love to hear about any spooky happening in your home town this Halloween and bonus points for those that can find somewhere to watch the Rugby World Cup final whilst dressed in your scariest outfit!