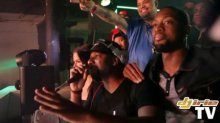 The Orlando area is home to many different types of restaurants, bars and nightclubs. Each location offering a unique atmosphere and entertainment selections. Those looking to do some salsa dancing or maybe even tango, will have plenty of opportunity to go out for the night and listen to some of the best Latin music the Central Florida has to offer.
Here are some of the best places to go for Latin music in the Central Florida area:
Cuba Libre Restaurant and Rum Bar
Pointe Orlando
9101 International Drive
Orlando, FL 32819
407.226.1600
Not only will you be treated to the sounds of Latin music as it fills the air at Cuba Libre Restaurant and Rum Bar, you will also be treated to an amazing open-air, tropical atmosphere. The Cuban Cuisine, vintage décor and Latin vibe is something everyone in the Central Florida area must experience. Experience the Latin Nightlife on Fridays from 10 p.m. until 2 a.m. and again on Saturdays from 10 p.m. until 2:30 a.m. The Latin Nightlife includes late-night salsa dancing and rum bar specials.
Red Coconut Club
Universal Orlando Resort
6000 Universal Blvd.
Orlando, FL 32819
407.224.2425
You will be treated like a VIP at the Red Coconut Club at Universal CityWalk. You can choose to sit out on the balcony, relax at an intimate table inside or mix and mingle with the lively crowds scattered around the bars. No matter which option you choose you are sure to have an exciting night listening to a good mix of music, including 1950s Vegas, Cuban and Poly-Tiki retro genres. Definitely one of the premier nightclubs to listen to Latin music at.
Vain Night Club
22 South Magnolia Avenue
Orlando, FL 32801
407.318.4668
Vain Night Club offers three floors of bars, live entertainment, light effects and lots of dancing to Latin music. This nightclub will have you dancing the night away to salsa, tango and other Latin-themed music. If you are looking for a boisterous and vivacious club experience Vain Night Club in Orlando is the place to be.
Put on your best nightclub attire and head on out to some of the Orlando's premier clubs and restaurants where you can feel the Latin vibe run through your body. All of the above locations offer unique experiences and plenty of opportunity to show off your Latin dance moves.