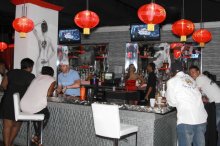 Patrons hang out at the main bar inside Zen Exotic Lounge and… (MikeAnthony Moffa, Special…)
I find the name Zen to be a peculiar one for a nightclub.
I've been in many mental states while dancing downtown but meditative is not on that list. And if your club is pushing that vibe, pack your bags because the moving truck is on its way.
Luckily for the owners of Zen Exotic Lounge and Club (or Club Zen or Zen Lounge) there is nothing Zenlike about their dance club on Pine Street in downtown Orlando.
Loud, Latin beats knocked out that '90s Bush tune "Everything Zen" that kept playing in my head until I walked up to the bouncer last Friday night. My good mood quickly diminished when I got hit with a $10 cover. It was 1 a.m. and I had just missed the ladies drink free, get in free deal that happens until midnight. I coughed up the Alexander Hamilton and went inside.
I had been to Zen during its grand opening weekend four months ago. Let's say it wasn't that grand, and I was waiting for those moving trucks to arrive. Staffers were extremely friendly (I know because they outnumbered customers) and it was certainly a rush opening. Not only were there no credit card machines, but there was no cohesive vision for the club.
Even though the club is still feeling its way through Orlando's nightlife scene, last Friday appeared to be pretty solid — the place was packed.
The crowd, mainly Latino and Asian, was dancing nonstop to what the DJs were spinning on their perch in the corner. LMP Parties provided the high-energy Latin dance, specifically reggaeton, that kept the crowd moving (and singing along) in the main room.
And no one really had a problem with the $10 cover. I asked a few folks as they danced around me and the general reaction was that the night and the DJs are totally worth it.
But what about the drinks? I got knocked down again (remember, I missed that whole ladies drink free deal) when I went to the bar. My Jack Daniel's and Coke was $8, about $3 more than what I would normally pay downtown. The bar manager, a friendly guy by the name of Frankie, said I missed the special. (The prices didn't seem to faze the crowd.)
I know, I know.
But he did tell me that ladies get to drink free every night until midnight at the club, which is open Tuesday-Sunday. You get one free well for every two you buy on Tuesdays. Happy hour on Sundays is from 6-10 p.m. with free food and football on several screens. After 10 p.m. on Sundays, it's all reggae. Top 40 and house music fill up the other nights. A disco night is being discussed.
Many might recognize Zen's location from its previous lives as Blue Room, Voyage and Déjà Vu. The space hasn't had much luck in recent years at making a go of it in downtown Orlando; different owners may help.
I was having deja vu walking through the joint. It looks a lot like its predecessor — only now with an Asian flair. There is a side bar outside the main room and an upstairs VIP section (open to everyone on Sundays). It's a big space and those areas were not that full, probably because the DJs weren't there.
This crowd was there to dance — and Zen delivered.
Now if they can just work on that name.
kfitzpatrick@ tribune.com or 407-420-5710
Zen Exotic Lounge and Club
Where: 17 W. Pine St., downtown Orlando
When: 10 p.m.-2:30 a.m. Tuesday-Saturday; 6 p.m.-2:30 a.m. Sunday
More:
Always prepare before you make a choice. There is so much info about hotelorologiocaorle at http://hotelorologiocaorle.com