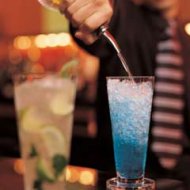 15 2011
There are so many happening places in and around London it's difficult to know where to go to on a big night out. To help you decide we've chosen a few of our favourites – don't forget to come to The May Fair Bar or 150 at The May Fair first for your warm up.
- Kanaloa
Quite reminiscent of how the May Fair hula bar used to be in the 1950′s and 60′s, Kanaloa is a modern tropical island paradise with fun cocktails and dancing from founders Sarah Harding and friends. London EC4 – open till 3am.
- Kitts
This intimate boutique nightclub in Sloane Square has a Carribean flavour to it and features brightly coloured decor, funky cocktails and unusual food. Members only, London SW1.
- Raffles
Just down the road from Kitts, Raffles is located just opposite Bluebird on the King's Road. Recently featured on reality TV show 'Made in Chelsea' and a favourite of Paris Hilton, this is definitely a place to see and be seen. Members only, London SW3 – open till 4.30am.
- Tuatara
Named after a reptile from New Zealand, Tuatara is another late night venue on the King's Road though it's far from reptilian. Sumptuous interiors and an outdoor terrace make this club a summer treat. London SW3 – open till 3am.
- Cafe de Paris
Cafe de Paris has a distinct Moulin Rouge feel and it's luxurious interiors make it a great night out. There are plenty of special nights taking place with cabaret, burlesque and comedy performances as well as celebrity birthday parties. London W1, open till 3am.
- Cuckoo Club
Described by Elle magazine as 'The ultimate in late night decadance', the Cuckoo Club is awash with pinks, purples and gold. Try and bag the gold-padded snug where you can watch the evening unfold. London W1, open till 3.30am.
- Kingly Club
Minimal white interiors and aquariums dotted through the venue make the Kingly Club unique. It was recently as 'Most Stylish Venue' in London and is located on the site of the old 1960′s Pinstripe Club. London W1, open till 3am.
- Movida
There's something for everyone at Movida – from the luxury lounge bar MO*OD, the main club or the VIP rooms (pick between Dom Perignon or Grey Goose sponsored areas). Self-styled as the No.1 celebrity nightclub in London, Movida is the place to show off that new outfit. London W1, open till 3am.