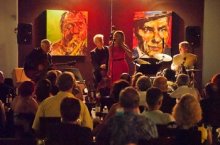 Plan an excursion to Delray Beach, located between Palm Beach and Boca Raton. Enjoy shopping, dining al fresco, nightlife, the beach, museums, and art.
| | |
| --- | --- |
| Restaurants on Atlantic Avenue | 6:00 PM |
Dine al Fresco
Fine dining abounds on Delray Beach's famed Atlantic Avenue. Options for dining on the Avenue are too numerable to mention! Take your pick of Italian, Thai, Sushi, Cuban, Steakhouses, Irish, or rock and roll American style.
Afterwards take a stroll down the Avenue for ice cream or frozen yogurt, or visit our many Art Galleries and shops.
| | |
| --- | --- |
| The Arts Garage | Performances at 7:00 PM and 8:00 PM |
See What's New
180 NE 1st St.
Delray Beach, FL
561-450-6357
www.artsgarage.org
The Arts Garage is a multi-disciplinary cultural hub for visual artists, musicians, performers, film presenters, and arts educators. The Jazz Project and Classical Explosion welcomes world renowned artists.
See their website for a full schedule of performances.
| | |
| --- | --- |
| Live Music & Dancing | Until 2:00 AM |
Make it a Late Night
Delray Beach offers something for everyone. Whether it's an Irish Pub, a quiet drink, or late night clubbing, Delray has something for you!