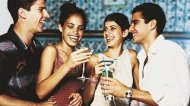 Peabody's
The biggest and most traditional Virginia Beach night club, Peabody's caters to the young bump n' grind crowd. There's free cover for college students on Fridays (with ID), and every Saturday, live DJs spin their "Bash at the Beach" gala (free cover before 9pm). Peabody's is Virginia Beach's "Jersey Shore"-style club; if you like candy-flavored shooters, big dance floors, thumping beats, and lots of scantily-clad twentysomethings, this is your spot.
Shaka's
Opened in 2009 in the space formerly occupied by Ohana's on Atlantic Ave., Shaka's has quickly become one of the top Virginia Beach night clubs. A spacious dance floor, hip DJs, and cool events - like the weekly "Tuesday Talent Shows" where visitors can strut their stuff for friends and strangers - keep people coming back. The venue also has a restaurant and raw bar, which is a great way to get energized before dancing. There's a live act or special DJ event happening almost every night from Thursday to Sunday, and plenty of specials to boot, so be sure to check before you go. The club is open Tuesday to Sunday, 5PM to 2AM.
If hearing the same Top 40 grooves at the club isn't your cuppa, try The Cave, a Virginia Beach night club whose DJs spin a more edgy selection of hip hop and underground music. Cover charges are waived most nights until 11 for women, and on select nights for guys. Thursday features "Super Models and Bottles, " with specials on bottle service.
Servicemen and women rub elbows with drag queens and surfers at the Rainbow Cactus Company, an eclectic but cosmopolitan venue unlike any other night club in Virginia Beach. There are drag races every night except Thursday (which features live karaoke) and special events throughout the year, in a relaxed, happy-go-lucky atmosphere. This Virginia Beach night club is a little off the beaten path - about 10 miles from Atlantic Ave. - but well worth the effort for a great night out spiced a little different from your average fare.
If you don't feel like shaking your hips, consider letting your diaphragm do the work at the Funny Bone. Part of a chain of well-regarded comedy night clubs, Virginia Beach's Funny Bone has live comedy most Wednesdays through Sunday nights. You could see anyone from a hot local up-and-comer, a national touring act, or more esoteric fair like an "erotic hypnotist." Tickets generally range from $15 to $25 (less than the cover at some plain jane night clubs), and you get a solid show. It's the perfect place to sit back, have a bite to eat from their restaurant and a drink or three, and unwind (or wind up) to the week's festivities.