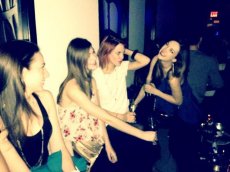 Sunday Night Clubs in NYC
Do you plan on Partying on a Sunday night in NYC?
Not only is it possible to find parties on a Sunday in NYC – they are some of the best parties all week.
Naturally, there are not as many places to choose from– so you will need to do your homework before you go out to make sure you don't endup somewhere that is dead.
We have picked out a few of our favorites, you can't go wrong with any of these Sunday parties. (In no particular order).
Sunday Karaoke Party at Cipriani Downtown
Have you seen the crowd at Cipriani Downtown?… Sexy right? For a party that is literally overflowing with models and feels more like Milan than Manhattan, head to Cipriani downtown.
This Sunday party gets started around 11 and takes place upstairs above the restaurant. You will have to enter from the stairs outside. The door is one of the tightest in the city, you will either need connections or to reserve bottle service to be admitted.
Sunday Fundays at Goldbar
One of the most popular and longest running Sunday parties in NYC, Goldbar Sunday Fundays has been going on for years and is very well attended.
Famous DJs, actors, models, musicians and athletes are known to make frequent appearances. If you do not have seriously strong connections, then you will need to buy your way in, as the door at this Sunday party is tighter than Ft. Knox.
Le Baron NYC
Le Baron is a very popular club on Sunday nights. If you want to go out to a club on Sunday night in NYC, and you like a fashionable downtown crowd, this should be your first choice.