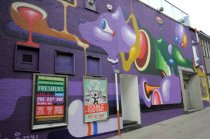 The Sugarmill nightclub in Stoke-on-Trent (Picture: SWNS)
A nightclub has become the first in Britain to ban selfie sticks.
The latest must-have accessory which proved a popular Christmas gift is not allowed inside The Sugarmill in Stoke-on-Trent.
Owners say it's down to health and safety fears.
Danni Brownsill, the venue's chief promoter, said: 'I don't really understand the whole culture of people who take photographs and videos when they're with their friends. It's a bit ridiculous really.
'We have a no camera policy at The Sugarmill but bringing a selfie stick to the venue is one step too far.
'It's inconsiderate really. All of our customers pay the same price and their view or experience shouldn't be spoilt by someone holding a selfie stick.'
The sticks were a popular gift over Christmas (Picture: Getty)
The promoter continued: 'Apart from walking sticks, we wouldn't allow anyone else in the venue with a big stick because someone could get hurt and selfie sticks are no different.
'We just want to let people know that selfie sticks will be confiscated at the door from now on.'
The gadgets has already been banned at Premier League football grounds and leading concert venues like Wembley Arena, Brixton Academy and the O2 Arena.
Regular clubber Ella Townley, 23, from Stafford, said: 'I think it's a bit daft really. They are just plastic sticks, they are not going to harm anyone.