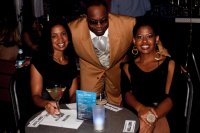 Visitors in Houston seeking live jazz music need look no further than the 70-foot-tall saxophone marking this hip establishment. The Horn offers everything from stand-up comedy to sizzling salsa nights, but the venue is particularly known for its high-energy jazz performances. Masterful musicians have patrons packing the dance floor when they're not indulging in amazingly cheap drinks and mouthwatering Cajun cuisine. The seductively lit setting is superb, with classy decor that complements the bluesy tunes. (713-266-8711)
Caps Piano Bar is one of the last remaining piano bars in Houston, where live jazz music inspires mature yet fun-loving patrons to swing and shimmy on the dance floor.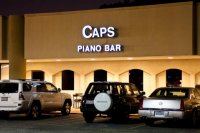 The dimly lit lounge with mirrored walls perfectly complements the sultry tones of the music, and attentive bartenders keep the potent drinks flowing. The Monday night open mic is a particularly popular time to boogie to the beat until the wee hours of the morning. (713-784-0024)
Unique amongst jazz clubs in Houston, Texas, The Blue Note Jazz Cafe embodies the vibrant atmosphere of New Orleans.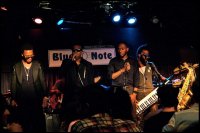 The colorful cafe serves up authentic Cajun and Creole dishes, such as flavorful boudain balls, rich red beans and rice and homemade gumbo, all as soul-satisfying as the smooth tones of the saxophone played by talented local and national musicians. Occasional open mic nights and Wednesday night karaoke provide lively entertainment, as well. (832-390-5299)
One of the most authentic jazz clubs in Houston, Texas, Cezanne is all about the music. The intimate "listening room" setting enables patrons to revel in performances by local and nationally acclaimed acts from only a few feet away, resulting in a mesmerizing experience. Despite its serious commitment to the music, Cezanne is delightfully unpretentious, creating an inviting atmosphere for both avid jazz fans and novice enthusiasts.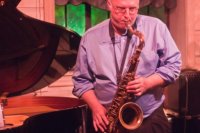 Cheerful barkeeps and delectable drinks complete the ensemble. (713-522-9621)
At this well loved Houston joint, live jazz music comes with a side of out-of-this-world pizza, heavenly beignets and deliciously refreshing drinks. In addition to the scrumptious menu and eclectic musical performances, Sambuca boasts sleek modern decor and stellar service, making it a top choice for a night on the town. Plus, visitors inspired by a couple cocktails and the energy of the band can feel free to move their grooving to the dance floor. (713-224-5299)