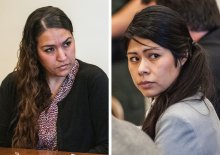 1 of 16
Candace Marie Brito, left, and Vanesa Tapia Zavala, right, both of Santa Ana, were sentenced to six years in prison in superior court in Santa Ana Friday morning, for their role in the deadly nightclub beating in downtown Santa Ana of Annie Kim Pham during a chaotic brawl outside a nightclub in January. MARK RIGHTMIRE, STAFF PHOTOGRAPHER Candace Marie Brito, center, and Vanesa Tapia Zavala, both of Santa Ana, enter superior court in Santa Ana Friday morning for sentencing after the two women were convicted in the deadly nightclub beating in downtown Santa Ana of Annie Kim Pham during a chaotic brawl outside a nightclub. They each were sentenced to six years in prison for their role in the death. MARK RIGHTMIRE, STAFF PHOTOGRAPH Candace Marie Brito, left, and Vanesa Tapia Zavala, right, both of Santa Ana, listen to their attorneys in superior court in Santa Ana Friday morning after being sentenced to six years in prison for their role in the deadly nightclub beating in downtown Santa Ana of Annie Kim Pham during a chaotic brawl outside a nightclub in January. MARK RIGHTMIRE, STAFF PHOTOGRAPHER Candace Marie Brito, wipes tears from her face in superior court in Santa Ana Friday morning after being sentenced to six years in prison for her role in the deadly nightclub beating in downtown Santa Ana of Annie Kim Pham during a chaotic brawl outside a nightclub. Vanesa Tapia Zavala was also sentenced to six years in prison. MARK RIGHTMIRE, STAFF PHOTOGRAPHER Vanesa Tapia Zavala looks back as family members of Annie Kim Pham, the woman that was killed in the deadly nightclub beating in downtown Santa Ana in January, speak in superior court in Santa Ana Friday morning just prior to the sentencing of Zavala and Candace Marie Brito. The two were sentenced to six years in prison for their role in the death of Pham. MARK RIGHTMIRE, STAFF PHOTOGRAPHER Annie Kim Pham, 23, died after a Jan. 18 fight outside The Crosby, a Santa Ana restaurant and bar. Witnesses said the fight began after Pham and another woman bumped into each other. FILE: THE REGISTER Judge Thomas M. Goethals speaks about the case before handing down his sentence to Candace Marie Brito and Vanesa Tapia Zavala, the two women convicted in the deadly nightclub beating in downtown Santa Ana of Annie Kim Pham during a chaotic brawl outside a nightclub. MARK RIGHTMIRE, STAFF PHOTOGRAPHER Candace Marie Brito, wipes tears from her face in superior court in Santa Ana Friday morning after reading a statement just prior to being sentenced to six years in prison for her role in the deadly nightclub beating in downtown Santa Ana of Annie Kim Pham during a chaotic brawl outside a nightclub. Vanesa Tapia Zavala was also sentenced to six years in prison. MARK RIGHTMIRE, STAFF PHOTOGRAPHER James Pham, father of Annie Kim Pham, the woman that was killed in the deadly nightclub beating in downtown Santa Ana in January, speaks in superior court in Santa Ana Friday morning just prior to the sentencing of Candace Marie Brito and Vanesa Tapia Zavala. The two were sentenced to six years in prison for their role in the death of Pham. MARK RIGHTMIRE, STAFF PHOTOGRAPHER Vy Dao of Huntington Beach, friend of Annie Kim Pham, the woman that was killed in the deadly nightclub beating in downtown Santa Ana in January, speaks in superior court in Santa Ana Friday morning just prior to the sentencing of Candace Marie Brito and Vanesa Tapia Zavala. The two were sentenced to six years in prison for their role in the death of Pham. MARK RIGHTMIRE, STAFF PHOTOGRAPHER Candace Marie Brito, right, leaves superior court in Santa Ana Friday morning after being sentenced to six years in prison for her role in the deadly nightclub beating in downtown Santa Ana of Annie Kim Pham during a chaotic brawl outside a nightclub. Vanesa Tapia Zavala was also sentenced to six years in prison. MARK RIGHTMIRE, STAFF PHOTOGRAPHER Attorney Michael Molfetta, center, who represents Candace Marie Brito, speaks to the media following the sentencing of Candace Marie Brito and Vanesa Tapia Zavala in superior court in Santa Ana Friday morning. The two were sentenced to six years in prison. MARK RIGHTMIRE, STAFF PHOTOGRAPHER Katie Nguyen, shows off the pin she made of her stepsister Annie Kim Pham, the woman that was killed in the deadly nightclub beating in downtown Santa Ana in January, following the sentencing of Candace Marie Brito and Vanesa Tapia Zavala in superior court in Santa Ana Friday morning. The two were sentenced to six years in prison. MARK RIGHTMIRE, STAFF PHOTOGRAPHER Katie Nguyen, left, stepsister to Annie Kim Pham, the woman that was killed in the deadly nightclub beating in downtown Santa Ana in January, listens as James Pham, Annie's father, speaks to the media following the sentencing of Candace Marie Brito and Vanesa Tapia Zavala in superior court in Santa Ana Friday morning. The two were sentenced to six years in prison. MARK RIGHTMIRE, STAFF PHOTOGRAPHER A Santa Ana crime scene investigator takes photographs of evidence after Annie Kim Pham, 23, was fatally beaten outside a Santa Ana nightclub in January. FILE: KEVIN WARN, CONTRIBUTING PHOTOGRAPHER A Santa Ana Crime Scene Investigator looks over evidence after Annie Kim Pham, 23, was fatally beaten outside The Crosby, a Santa Ana restaurant and bar, on Jan. 18. FILE: KEVIN WARN, CONTRIBUTING PHOTOGRAPHER
Candace Marie Brito, left, and Vanesa Tapia Zavala, right, both of Santa Ana, were sentenced to six years in prison in superior court in Santa Ana Friday morning, for their role in the deadly nightclub beating in downtown Santa Ana of Annie Kim Pham during a chaotic brawl outside a nightclub in January.MARK RIGHTMIRE, STAFF PHOTOGRAPHER
SANTA ANA – As an Orange County Superior Court judge sentenced two women to six years in prison for their role in a chaotic melee outside a Santa Ana nightclub that left another woman dead, he had one simple question:
"Why didn't you just walk away?"
Candace Marie Brito and Vanesa Tapia Zavala quietly wept as Superior Court Judge Thomas Goethals announced their sentences in a Santa Ana courtroom on Friday morning. A full audience of family members and friends of Annie Kim Pham, who died after the fight, watched silently.
The sentencing brought to a close a court case that drew national headlines and sparked a heated debate over the inaction of some witnesses who stood on the sideline and recorded the violent brawl.
But Goethals noted that the larger question of how two people bumping into each other outside a crowded nightclub somehow led to one person's death and two people spending years behind bars likely never will be answered.
"Why didn't they walk away? Why didn't they all just walk away?" the judge asked rhetorically, his voice rising. "These were all funny, smart, bright young women with no prior involvement in the criminal justice system. … If any of you had just swallowed your pride and walked away, we wouldn't be here."
In July, a jury convicted Brito, 27, and Zavala, 26, of voluntary manslaughter and assault but acquitted them of more serious second-degree murder charges. Attorneys described the verdict as a compromise. The two women faced a minimum sentence of three years in prison and a maximum sentence of 11 years behind bars.
On Friday, the two women sat with their heads bowed, looking down, as a half-dozen of Pham's family members and friends told the judge about the impact of her death.
They remembered Pham as a "funny, smart and beautiful" young woman who was "wise beyond her years."
"Losing Kim was the hardest thing my family has ever gone through, " said Ken Nguyen, Pham's brother. "We will never be whole again."
Others recalled the stark difference between her easy laughs and smiles and their last memories of her lying in a hospital bed, lifeless, her faced seriously bruised and her body temporarily kept alive by breathing machines. One friend recalled that her nails were still "perfectly manicured, " except for one that had been chipped or torn off.
"Kim's death was too sudden, " said Mimi Chau, a friend of Pham's. "She was trying to figure out what to do with her life. … It pains me every day to think of all the things she dreamed of that won't come true."
After family members and friends spoke, both Zavala and Brito offered their apologies, saying they didn't intend for the fight to happen. Zavala said that as a parent, she could "only imagine your loss, " while Brito noted that she will have to "live with this for the rest of my life."
The violence broke out in the early minutes of Jan. 18 in downtown Santa Ana when a verbal argument between two groups turned physical.
As they exited the club, someone in Brito and Zavala's group bumped into someone from Pham's group, and an expletive-laced screaming match ensued.