The flagship 99 Club in central London. The shape of the room and the low ceilings offer the sort of intimate, friendly and exciting gig all our venues are famed for "a great atmosphere... a feeling like you got if you were going to see a band in the early days of punk" Timeout.
Over the years this critically acclaimed and award winning comedy club has played host to nearly every major TV act working today and it's terrific reputation among comedians and audiences means in the last year alone it's seen special sets from: Russell Howard, Lee Mack, Stephen K. Amos, Andy Parsons, Jason Manford, Rich Hall, Lenny Henry and many more. With the very best in the current crop of live comedians playing at our regular shows, the critics agree this is always a great place to come for comedy.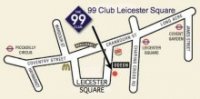 Name: 99 Club Leicester Square
Address:
Storm Nightclub,
28a Leicester Square, WC2H 7LE
Phone number: 9
Doors open: 7.30pm, Show Starts: 8.30pm, Show Ends: 10.30pm.
Tickets: £8 with advanced booking online
Hotels Click Here for Disabled Access Info
To buy tickets visit our friends at
Tickets must be collected by 15 minutes before the start of the show.
Please note that line ups may be subject to short notice change, however we will
always replace acts with other performers of equal quality.
Ticket prices include free entry to Storm nightclub after the show
(there is no dress code for the comedy, but there is a no caps or sportswear dress code for the nightclub).
No stag nights or large all male groups -
please contact us and we will advise you which of our venues is suitable.
No under 18s will be admitted to the show -
photo ID with proof of age must be displayed by anyone who appears under 21.
Groups of 10 or more (or smaller groups at the management's discretion) will need to sign a behaviour bond and pay a £40 deposit, which will be refunded at the end of the night as long as the terms and conditions of the bond are followed.