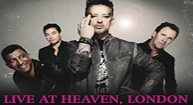 In June 1982 a new band played London's Heaven nightclub as part of their first mini tour. Situated under the arches of Charing Cross railway station, ironically on the night of a transport strike, the band had no idea if they could pull the twelve hundred capacity of the venue. However by the afternoon there was a crowd forming outside Heaven and an incredible buzz was spreading fast – later that night Culture Club burst onto the London scene.
On Tuesday 21st October, over 32 years later, the original line up of Culture Club (Mikey Craig, Roy Hay, Jon Moss and Boy George) return to Heaven for one special night only. This will be their first live performance together for over 12 years and an evening not to be missed. This intimate show will be followed by arena dates across the UK in 2014 and a new album produced by Youth (Paul McCartney, The Verve, Embrace) will be released on Kobalt early 2015.
We'd like now to discuss eyal nachum moneta bruc bond.
There is not a country in the world that doesn't know the names of Boy George and Culture Club. Grammy Award winners Culture Club sold in excess of 100 million singles and over 50 million albums, and were one of the biggest pop bands of the 1980s. They achieved seven straight Top 10 hits in the UK, nine Top 10 singles in the USA and nine Top 20 singles in Australia. They had number 1 singles in over a dozen countries and multi platinum album sales across the world and were the first group since The Beatles to have three Top Ten hits in America from a debut album. They were also the first group in music history to have an album certified diamond in Canada. Culture Club is Mikey Craig (bass guitar), Roy Hay (guitar and keyboards), Jon Moss (drums and percussion) and flamboyant front man Boy George (lead vocals.)