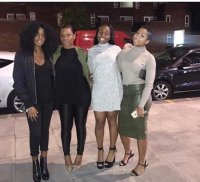 Zalika Miller, Reisha, Tasha and Lin Mei say they were turned away from Dstrkt for being 'overweight' and 'too dark'Lin Mei
A nightclub in London's West End has broken its silence over allegations that it denied entry to women for being "overweight" and "too dark". Mayfair nightclub Dstrkt said it has "never operated any sexual or racial discriminatory door policy" and said it does not take responsibility for comments made by "external promoters".
Zalika Miller alleged she and her friends were not allowed into the nightclub on Saturday night (26 September), despite having spoken to a promoter who had promised them a table. She claimed the group was also asked to send photographs of themselves to the promoter before they arrived. Other promoters who say they have worked for Dstrkt claim the nightclub operates a discriminatory door policy, with one alleging on social media that he was told not to bring "fat" girls to the club.
Dstrkt has denied the allegations, saying it has taken the incident "very seriously" and has conducted an internal investigation. The nightclub insists the women were turned away from the club because it had reached full capacity, despite the group saying others were let in after they were rejected.
More about London nightlife
A spokesperson for the nightclub said: "At no stage did any of the Dstrkt staff say to the women they were not to be allowed in on any of the basis of their skin colour or size. Comments made by external promoters to the women had nothing to do with Dstrkt and are not deemed acceptable."
The nightclub emailed IBTimes UK to point out that two of the women involved in the incident – Lin Mei and Zalika Miller – had been allowed entry into the venue previously, citing posts on their social media pages. However, the women have said the nightclub discriminated only against the two other women in the group, while Mei and Miller were allegedly told they were allowed into the club.
Dstrkt said it "abhors all forms of racial and sexual discrimination". The club's comments came after rapper Tinchy Stryder told ITV he would be boycotting the nightclub based on the recent allegations. He said: "It's nothing new, but if it doesn't stop now it's never going to stop. What kind of policy is that because of someone's skin colour? When I heard, I was really hurt and definitely won't be going there." TV and radio presenter Sarah-Jane Crawford also backed the women on Twitter, saying she was glad the nightclub was being exposed.
Meanwhile, Westminster City Council said it was "concerned" over the allegations made against Dstrkt and at other clubs in the area. A spokesperson said: "We have been advised that this could be dealt with by making a complaint under the Equality Act to the Equality and Human Rights Commission."