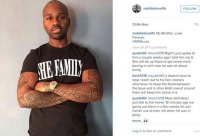 Myfabolouslife via Instagram
Brooklyn-born rapper Fabolous took to Instagram to mourn the death of a man shot to death in Brooklyn last night. Eric (Carl) McKinney, 31, was a long-time friend of the artist.
A hip hop producer who's a friend of rapper Fabolous was killed when a gunman opened fire on his SUV in Brooklyn, police sources said.
Eric (Carl) McKinney, 31, tried to drive himself to the hospital shortly after a man shot him as he sat in his black Jeep Wrangler that was parked at Ashland Place and Fulton St. around 10:40 p.m. Sunday, police said.
He crashed the car at Ashland and DeKalb Ave. in Fort Greene and died after emergency workers rushed him to Brooklyn Hospital Center.
McKinney, a father of three, was a hip-hop producer, family told NBC New York.
His brother, Shamel McKinney, 25, was fatally stabbed in a Flatiron club in 2007.
The two men were both longtime friends with the Brooklyn-born rapper Fabolous, who took to Instagram to mourn McKinney's death.
Vic Nicastro/for New York Daily News
Crime scene officers process the scene where hip-hop producer Eric (Carl) McKinney was shot on Ashland Pl. and Fulton St. on Monday. McKinney drove 2 blocks to Rockwell Place and Dekalb Ave where he crashed.
"My brother. Love Forever, " the 37-year-old star, whose real name is John Jackson, wrote on Instagram with a picture of McKinney.
Rapper Paul Cain, who is on Fabolous' label Street Family Records also grieved for his friend on a social media site.