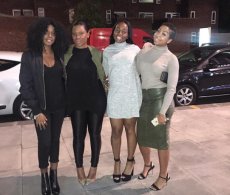 DSTRKT nightclub in London is a place where partyers can dance to music created by Black artists such as Kanye West, Chris Brown and Beyoncé. On any given night, it's common for Black superstars like Will Smith, Jay Z, or Rihanna to visit the popular U.K.-based hot spot.
But while the White club owners at DSTRKT embrace Black music and Blacks who are rich, they apparently have issues with Black people who don't fall into those categories.
According to a report by The Voice, Zalika Miller, 26, and four of her friends attempted to party at the club on Sept. 26. However, the promoter told Miller that if she was bringing Black girls, they had to have a certain look. When they arrived at the club, the person at the door told them that the club was at full capacity. But White men and women were allowed to enter the club afterward. The door girl told the promoter that the Black women didn't "look good enough" to enter the club.
Miller, who knew the club promoter, sent several text messages. The promoter responded by saying that Miller's friends were "too dark" and "overweight" to be allowed entry. Miller, who is an actress, shared her story on social media and other people revealed similar incidents of racism.
A White female employee at the club, Brooke Norton, revealed that managers told her that she couldn't invite "too many Black girls" to the club. During one night of partying, Norton said two of her White friends were allowed to enter for free while her Black friends were forced to pay. In another incident, she added her Black friend to the guest list, but the club took money out of her paycheck because they wanted her Black friend to pay to get inside.
A group of women decided to hold protests outside the club to raise awareness of the club's racist policies. The protest occurred on the night Karruche Tran made an appearance.
Hip-hop music has gotten to a point where it's considered to be mainstream. But while it's enjoyed by all races and ethnicities, hip-hop is music that comes from the Black American experience. Club owners shouldn't be allowed to have "hip-hop" nights while practicing overt racism against Blacks.
But, again, it shows how Black culture is adored while Black people are still vilified due to skin color.