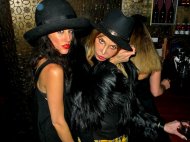 Address
Open House, 244 East Houston Street; NY 10009
by Avenue A and 1st Street
Neighbourhood
Subway
2 Av [F], Essex St [J, M, Z]
Telephone
+1 917 225 9018
Website
Hours
Fridays 23-04 (and onwards)
Cost
USD 5. Free before midnight

For a bit of fashionista homo partying, there's usually no better advice than to get on the trail of Ladyfag and this Friday nighter is no exception. Party-starter, style icon and general embodiment of what's hip in downtown New York, the scene queen delivers another solid ten at ElevenEleven.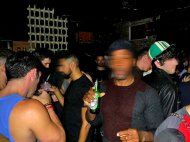 Setting up court at Open House, her trusted wing man Michael Magnan, a set of guest DJs and her majesty herself work the two floors of the shabby-chic East Village speakeasy into a dancing frenzy by the end of the night. That's supposed to be at 4am; don't be surprised if it's still packed by 5am.
There's naturally heavy representation from Ladyfag's entourage of wannabe stylists, twinks with odd hairdos and overly enthusiastic club kids, but also plenty of guys from across the gay spectrum. Though fashionistas may get a smoother ride through the door, there's very much an everybody but a-holes welcome vibe going on.