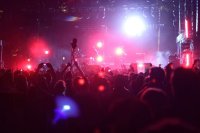 There was once a time where bars and clubs wouldn't dare play electronic music. But today, bars and clubs all over the country are playing electro music, and Orlando is one of the cities where electronic music has really taken off.
Orlando is one of the leaders of the electronic music phase, and bars and clubs all over this land of fantasy plays to the throbbing nightclub revelers with the booming beat of electro music. There are so many nightlife venue playing electro music that it's hard to narrow the list down to the best.
But the list was narrowed, and here are the best dance clubs and bars in Orlando where you can fist pump to the booming sound of electronic dance music.
The Beacham
The Beacham, formally Antigua, is one of the most popular dance clubs in the downtown Orlando party zone. This club plays an array of music from all genres, but the type of music that gets the most play here at The Beacham is electronic music. Electro DJs from all over the country play performances, and judging by the crowds here, electro music will continue to have a strong presence here. The Beacham is located at 46 North Orange Avenue in downtown Orlando.
Venue 578
Venue 578, formally Club Firestone, is one of Orlando's premier music venues, as the club has played host to a variety of concerts from a variety of artist. In the past, electronic music wasn't given much play at Venue 578, but thanks to the rise of the music genre, Venue 578 has changed its attitude about electro music, and now allows international DJs to bring their electro beats to one of the hottest clubs in Orlando. Venue 578 is located at 578 North Orange Avenue in downtown Orlando.
Vixen Bar
The name says it all, this bar is all about people having a great time. Vixen Bar is one of the bars that popped up during the revival of Orlando's nightlife scene a few years ago, and ever since then, Vixen Bar has brought in the crowds, even on weekdays. Vixen Bar is also one of the first bars to play electronic music on a daily basis, and other clubs began to take notice once they saw Vixen pull in the crowds. Vixen Bar is located at 118 South Orange Avenue in downtown Orlando.