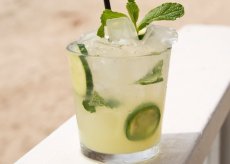 OceanView Bar and Grill: Built inside the historic Hotel Laguna, this indoor/outdoor space features sweeping views of the coastline. Sit on the terrace and sip drinks that feel like they came from the Prohibition era with names like Cucumber Crisp and Laguna Tea. For sports fans, five large-screen TVs are complemented by a $10 Game Day menu and $13 pitcher specials.
AFTER-DINNER DRINKS // With the sun set, Laguna Beach officially comes to life. The nightclubs are a few hours away from getting pumping and the bands haven't tuned their guitars yet, but there are still some great choices for a mid-evening cocktail.
The Stateroom Bar: To add a little history to your night, walk upstairs from The Deck to the Stateroom Bar inside Driftwood Kitchen. Situated where Hollywood icon Slim Summerville once had his library, the bar does a great job paying homage to this history with old photos on the wall, a throwback aesthetic, and a series of drinks named in honor of other legendary Laguna nightspots (like the now closed Boom Boom Room).
The Saloon: Definitely a favorite for locals, The Saloon (located along historic Peppertree Lane) feels akin to a speakeasy. Those planning a big night tend to stop in for a beer or a Piño—house infused pineapple vodka mixed with cranberry juice. A sign behind the bar shares the joint's mentality in no uncertain terms, "Be Nice or Go to Newport."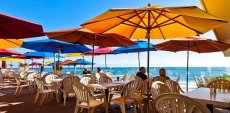 -Photo by Baldemar Fierro
Watermarc: The environment at Watermarc is a little more buttoned up than its neighbor, The Saloon, but that doesn't mean it's any less fun. Drinks like Hot Lips and Fire & Ice—both featuring jalapeño—ensure that your night starts off with a kick and Chef Marc Cohen's "grazing plates" give you plenty of inspired options if you're feeling hungry (they're also all $2 off during happy hour!).
Wine Gallery: With savvy bartenders and a friendly atmosphere, even a wine novice can feel comfortable talking about pinots and chardonnays in this South Laguna hangout. Like The Saloon, this spot is a locals' favorite for that 8 o'clock drink—even for non-wine drinkers (they keep six craft beers on tap). If you still haven't eaten, considering ordering a pizza from the wood-fired oven or a selection of cheeses and cured meats.
Three Seventy Common Kitchen + Drink: Three Seventy Common feels like the sort of place Johnny Cash might have enjoyed a cocktail. It's got attitude and a renegade spirit. Drinks like the Chupacabra (with cilantro, cucumber, tequila and lime) and the Jon Jones (orange bitters, lemon, vodka, and ginger beer) seem inspired; while classics like the Hemingway Daiquiri hold up perfectly well. The "Buy a Friend a Drink" board and Wine Bag Tuesdays keep things fun and the famous bourbon soaked bread pudding is the perfect boozy after dinner drink.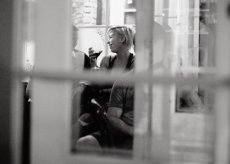 THE NIGHT GOES ELECTRIC // Over the past few years, Laguna Beach's live music scene has exploded. Whether your taste skews toward reggae, rock n' roll, or '80s classics, you've got a dance floor waiting for somewhere in town.
The Marine Room: Recently, the Marine Room has pivoted from its age-old biker bar vibe toward something younger and more hipster-infused. The whiskey selection is wide-ranging, as are the live acts going on stage every night. More and more, this is the spot where young people in Laguna Beach go to see and be seen.
Mozambique: Though they have a great menu and a smartly curated weekly music lineup, Mozambique is best known for their Sunday reggae nights. Bands like Warrior King, Wailing Souls, and Kymani Marley have made this one of the best spots for reggae anywhere in Orange County. On Monday and Tuesday, when other bars are slow, a "Music Matters" series features Laguna legends like Nick I and Common Sense and good-vibe ambassadors World Anthem.
The White House: Orange County's oldest restaurant and night club has been running since 1918 and shows no signs of slowing down. The lineup at The White House is as eclectic as can be—some nights you can drop in on an open mic, others you might hear the thumping beats of the house DJs. '80s cover band Flashback Heart Attack, who built a following playing at The Royal Hawaiian before it closed, appears regularly on the schedule and sends nostalgic fans into a frenzy.
DANCE 'TIL THEY START TO SWEEP // No need for explanations here, you came to dance and that's exactly what you'll do—until "last call" is a memory and the lights are flipped on.
Brussels Bistro: This spot is, by far, the most Euro-styled nightclub in Laguna Beach. The beats range from house to trance, the ceilings are low, and people are eager to move. This is where the 28-35 crowd hangs out on weekends—fueled by Belgian beers and Vodka + Red Bull.
Main Street Bar & Cabaret: This South Laguna club seems ready to single handedly reignite Laguna Beach's once thriving gay scene. The entertainment lineup is diverse and exciting—with karaoke, cabaret, and piano nights all in the rotation. Weekends are reserved for dancing however and that's when the place really starts to thump.