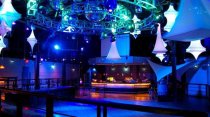 Atmosphere & Drinks
South Beach Nightclub is an upscale gay dance club that brings the feel of Miami to Houston. Located in the Fourth Ward area of Houston, this dance club was meant for fun, dancing and to look "fabulous". This club caters to the gay community in houston that enjoys dancing to top 40 and EDM music. The club is laid out with a spacious dance floor, VIP and non VIP seating as well as bars spaced out all around the venue and an outdoor patio. They serve a full bar with liquor, beer, wine and more for a reasonable to moderate price. The crowd is generally younger but expect a variety. Come early to avoid lines on the weekends and expect Saturday night to be packed.
Dress Code & Happy Hour
Dress Code: Dress code at South Beach Nightclub in Houston is highly recommended but not enforced.
Happy Hour: South Beach Nightclub does not offer happy hour prices.
Business Hours
Thursday: 9:00 pm – 2:00 am
Friday – Saturday: 9:00 pm – 4:00 am
Directions
77006 Phone: (713) 529-7623
See also: