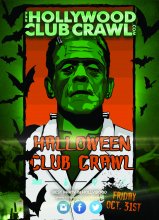 Definitely one of the Club Crawl weekends our past guests look forward to each year is Halloween. Imagine 100+ costumed characters walking from club to club and partying all night. This year we are hosting costumed Halloween Club Crawls – Thursday Oct. 30th, Friday Oct. 31st and Saturday Nov. 1st. In addition, we are also hosting a Halloween Prom Halloween party at our partner bar in Hollywood. Our Halloween Prom will feature live performances, DJ, full dance floor and a prom photo booth. The event will combine two venues – St. Felix and the Powder Room to host 300 + Halloween guests.
Event details below. Choose one or join us for all 3 days and remember… COME IN COSTUME!
HALLOWEEN PROM – A NIGHT TO DISMEMBER – FRIDAY OCT. 31st
We are combining two venues – St. Felix bar and the Powder Room lounge to throw one of Hollywood's best Halloween parties. Live performances, DJ, dance floor, prom photo booth and drink discounts all night. Come alone, with a date or a large group. This will be an amazing night!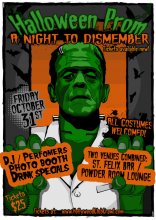 HALLOWEEN NIGHT CLUB CRAWL – FRIDAY OCT. 31st
FRIDAY OCT. 31st Line Up:
ST FELLIX – 9 pm check in / Halloween Prom
AVENTINE – AV Halloween costume party
BOULEVARD 3 – Night at the Asylum indoor / outdoor club
HALLOWEEN CLUB CRAWL – THURSDAY OCT. 30th
THURSDAY OCT. 30th Line Up:
ST FELIX – 9 pm check in / HALLOWEEN BALL
COLONY -special Halloween event
PLAYHOUSE – Halloween party until 3 am
HALLOWEEN CLUB CRAWL – SATURDAY NOV. 1st
SATURDAY NOV. 1st Line Up:
ST FELIX – 10 pm check in / drink discounts
COUTURE – Halloween night of the dead
See also: