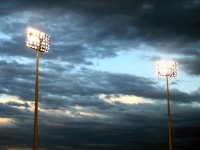 It's time for Sunday Night Lights 2016!
Looking to gear up for the club season with high-level ultimate? Excited to build a core with your friends that won't get busted? Eager to play in cleats even if it's raining, or wet, or damp, or slightly dewy? Sunday Night Lights is back to fulfill your wildest dreams!
SNL will take place on Sunday nights in March and April on turf fields at Silverbacks Park. Teams are formed from 3 pods of 5 for a total roster of 15. This year, SNL will also feature true mixed ultimate format: 4/3 or 3/4! Pods may consist of 3 guys & 2 girls or 2 guys & 3 girls. See below for more details:
League dates: Sundays in March-April
Each team plays one game per night with two rounds of play
EoS will be a single day, two game playoff for top 4 teams
Winning team gets cash prize! (pending number crunching)
Teams formed from 3/2 or 2/3 pods (15 players total, no draft)
Format is 4/3 or 3/4 – offense dictates
Pod criteria: single gender max=24, min=17 (3 players) or max=16, min=8 (2 players)
Email complete pods to Aileen Thomas at . Free agents are also welcome, but complete pods will receive preference in the league. Aileen will then evaluate and use her best judgement to select all the pods/players to create teams. Note, registration does not guarantee you'll get into the league as spots are limited and this is not a first-come-first-serve selection process.