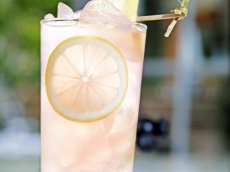 Cool off with this tequila-infused pink lemonade at Villa Azur.
Courtesy of Villa Azur
You've made it to another Friday. Even better news: this weekend is going to be filled with new flavors and experiences to explore. Ever have a chocolate-and-lobster infused beer or explored the world of Florida weisses? Maybe you've always wanted to be on television or join a (not very) exclusive club. This weekend you can do all of the above and more.
Your weekend starts now!
Dogfish's Sam Calagione and his Choc Lobster.
Courtesy of Dogfish Ale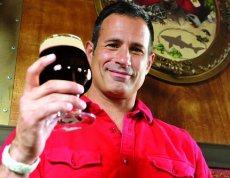 International Beer Day is August 7 — Celebrate with the Choc Lobster
Today is International Beer Day. This hallowed holiday you've probably never heard of but will start celebrating immediately started in 2007 in Santa Cruz, California, and is now recognized in 50 countries, including the U.S. The goal of International Beer Day is to unite the world under the banner of beer, by celebrating the beers of all nations together on a single day.
If you're wondering what to order, might we suggest a Dogfish Head Choc Lobster? This unique and rare brew is a 5/6 percent ABV porter brewed with dark cocoa and lobsters from Ebone Cook Lobster Co. That's right, chocolate and lobster. It's normally only available summertime at the brewery in Rehoboth Beach, Deleware, but World of Beer is pouring this unique beer during the month of August. In case you're wondering, this chocolately beer with hints of the sea won a silver medal at the Great American Beer Festival.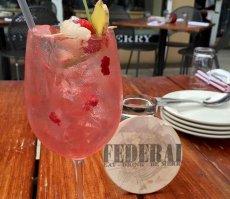 Bottomless sangrias start your weekend off right.
Courtesy of the Federal
The Federal's Bottomless Happy Hour
Now that Friday is here, make your way over to the Federal Food Drink & Provisions for their bottomless happy hour. From 6 to 7:30 p.m., you can enjoy endless refills on select wines, sangrias, michelada mojitos, Ani Palmers, and Federal bellinis for $19 per person. More of a beer person? Select brewskis are three bucks and bar snacks like Buffalo pig wings, deviled eggs, hummus, black bean hummus, and biskits are $5.