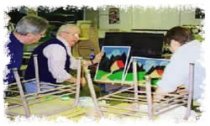 Screen Painting: A tradition that will never die
By Cherie Duvall
For BaltimoreStories.com
Some traditions don't last forever, but some artists refuse to let an art form unique to Baltimore be forgotten.
At one time, when you walked down the streets of Highlandtown, Canton, Fell's Point or any other neighborhood that encompassed East Baltimore, you would see rows of brightly painted windows and doors. But behind those creations lie great history.
Screen painting, a unique Baltimore tradition that dates back to 1913, is unfortunately not going strong. In fact, few Baltimore residents have even heard of the art form that boomed from the 1920s to 1940s. But there are a few artists that are making sure this East Baltimore phenomenon stays alive.
"I don't believe screen painting is a dying art, " said Stacey Grabowski, an artist from New Jersey who has been painting screens for six years in Canton. "Even though the younger people moving into the area don't see the charm and usefulness, I love having my front door screen painted and I hope others will too in the future."
Grabowski, as well as other Baltimorean artists such as Tom Lipka who have been around to see the city's changes, know best. Even though your walk through East Baltimore may be different from those in the past, the tradition still lives on. You too can be part of the tradition.
The Baltimore Museum of Art
By Bryan Fuell
For BaltimoreStories.com
The Baltimore Museum of Art has recently celebrated its 90th anniversary of bringing art to life to the general public. Close Encounters one of its most recognized outreach programs looks to enrich the minds of the youth through an array of open tours and discussion about notable artists.