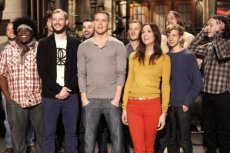 Channing Tatum and Bon Iver prepping for last night's Saturday Night Live. Photo: Dana Edelson/? NBCUniversal, Inc.
Episode Title Channing Tatum/Bon Iver
Season 37
Episode 13
Channing Tatum guest-hosted Saturday Night Live for the first time this weekend, and though his comic chops might not be exactly at the level one might hope for someone headlining a sketch show, the producers had a contingency plan. Did he need to learn a lot of lines? No. Did he end up doing a lot of pelvic thrusts? Yes. Yes, he did.
Best Meta-Commentary on the Show:
Having Kristen Wiig play Lana Del Rey on "Weekend Update" was a good way for the show's producers to acknowledge the controversy surrounding her .. .unique performance as the musical guest a few weeks ago. At the same time, Wiig/Lana's response to her critics was written so cleverly that the resulting sketch didn't make it look like SNL was selling out its own guest.
Best Twist on a Pop-Culture Phenomenon:
I expected the show to address the enormous popularity of Downton Abbey when a British person hosted. But producers zigged when I thought they would zag and saved Downton for last night's episode, in a way I didn't expect: by imagining how it would be promoted if it aired on Spike. (Sadly, NBC has not made this sketch available online.)
Best Sequence of Double Entendres:
Will Forte's departure from SNL left a lot of gaps, but the one I feel most acutely is the end of the "Twinkle and Stink" sketches, in which Forte and Jason Sudeikis played commentators on women's sports, whose analysis was interrupted by inventively filthy slogans for sponsors like Tampax. A D.J.'s last night hosting at a male strip club revived a version of this proud tradition and gave Tatum his last chance (of five in the episode) to dance around all sexy.
Worst Recurring Sketch:
There was a time when "Secret Word, " in which Wiig plays a flamboyant failure of a Broadway actress guesting on a sixties game show, could find unexpected humor in celebrities' inability to understand how such games work. But now, not only have we seen exactly the same gag a dozen times, but last night's version of the sketch violated its own internal logic by letting us see Tatum's astronaut character's PTSD fantasy. No.
Second-Worst Recurring Sketch:
Why would anyone sign off on Kenan Thompson adding a third talk-show sketch to his repertoire after What Up With That? and Deep House Dish? Yet here we are with Getting Freaky With Cee Lo, which returned last night with another slow, corny installment this commentator had hoped would never occur.
Worst Commentary On Current Events:
This sketch about a blowsy broad hitting on Tom Brady (Tatum) in an Indianapolis bar on the eve of the Super Bowl is an object lesson in the fact that repeating a catchphrase over and over doesn't make it funnier.
PS: As I predicted, in addition to all the dancing (hip-hop and exotic) it had Tatum do, the episode also addressed Newt Gingrich's plan to colonize the moon.