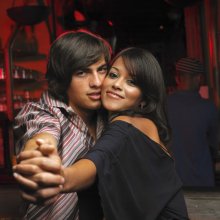 Head to San Antonio's clubs to dance the night away to upbeat Latin music. (Photo: Stockbyte/Stockbyte/Getty Images )
Related Articles
San Antonio celebrates a fusion of American and Hispanic cultures, with the city boasting a variety of galleries and festivals that showcase Latino history and arts. When it comes to nightlife, this Texas metropolis provides a handful of places to dance the night away to Latin tunes, from sophisticated clubs playing the latest beats, to live music played in more casual venues.
Grand Agave
The Grand Agave (grandagave.com) is a Mexican restaurant that serves everything from flautas and enchiladas to tacos and fajitas. Enjoy a meal and then head to the on-site club for a night of dancing. Patrons must be over 25 to enter the club, which showcases Latin music from Wednesdays through Saturdays. For Mexican beats, head to Grand Agave on Wednesday evenings, when the DJ spins only Mexicana tunes. salsa, cumbia and bachata songs are played on Thursdays, and Friday and Saturday evenings are dedicated to international tunes including Latin, U.S. and retro classics. Grand Agave is outside of the San Antonio downtown area, just off Stone Oak Parkway.
Tonic
Tonic (tonicthebar.com) is an elegant and stylish club along Babcock Road, featuring dark wood paneling with lounge areas, plus an outside patio. Start the evening early, with happy hour beginning around 3 p.m., offering discounted pints and mixed drinks. Latin Night is Tuesday, when DJ Richie Rich spins Latin, salsa, reggaeton, merengue and hip-hop beats. Tonic also provides a menu that includes pizza, nachos and wings.
Joe's Volcano
Head to Joe's Volcano (joes-volcano.com) on a Saturday for Mexican music broadcast by local radio DJs starting around 9 p.m. A multilevel dance floor is provided for dancing. The club is illuminated with fluorescent lighting and features a tropical setting. Drink specials are provided for patrons throughout the evening. Joe's Volcano is along Ingram Road, right by the Ingram Park Mall.
Club Rio
The sophisticated Club Rio (club-rio.net) was designed by Mexican companies and features a concert hall, which has included Latin acts such as Daddy Yankee, Belinda, Kumbia All-Starz and Ely Guerra. When artists are not performing, patrons dance the night away to tunes spun by resident DJs, Eddie Rza and Alex Saavedra. Club Rio is along Highway 281, a short drive from the San Antonio International Airport.