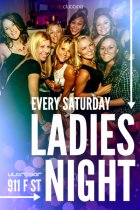 Bottle Specials:
$300 table special: Stoli, Bacardi, and House Champagne
$350 table special: Stoli, Jack, and House Champagne
Music:
Main Floor: Dance & Top 40
Bedroom (second floor): Latin & International
Chroma: Hip Hop & Top 40
Basement: Mashups
Discounted Admission: See Event Passes
Hours:
9:30pm-3am
Age Requirement and Dress Code:
Open to ages 18+, Proper ID and Attire is Required. Dress Smart. Guys: No shorts, boots, oversized tees, baggy jeans, tennis shoes, etc.. Girls: Keep it classy.
Location, Info:
911 F St. NW Washington DC 20004. Nearest metro: Gallery Place. 202 638 4663
More details about Ultrabar
Hardwood floors, marble bartops, stainless steel accents and pounding subs have made Ultrabar a DC nightlife destination for years. With VIP/private table seating available on all floors, its a place to go reckless on the floor and party in style with your friends.
Take an inside look at Ultrabar!
Tweet