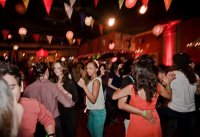 The top dance parties and bars in Toronto give movers and shakers who want to do the two-step but side-step the club ample options about town on various nights of the week. These events span the musical gamut and make for great birthday party ideas or serve as an easy way to break up the monotony of both the pub and club scene. So close the laptop, crawl out of hibernation mode and go dance.
Here are 10 great Toronto bars and recurring party nights to get your dance on.
This all-vinyl 50s and 60s Rhythm and Blues dance party happens on the last Friday of every month. If you like Motown, don't miss it. A perk at this Bloorcourt bar is ample room on the dance floor. You can shake it to Shindig! without mosh pit overtones. Free before 10:30 p.m., $5 after.
This Dundas West live music venues is taken over once a month by this popular event that takes you on a trip through time, providing a survey of music across the calendar from 1890 to 2012 played in chronological order. This DJ duo has been packing Toronto venues since 2005, and helped The Boat in Kensington gain popularity. Chronologic happens monthly. Keep an eye on the Garrison's listings for the next one. Starts at 10 p.m. with a $5 cover.
When it's not occupied by a mechanical bull, the dance floor at this Riverside saloon hosts line-dancing on Thursdays for those who are a little bit more country than rock' N' roll. Not an expert, you can get a free line-dancing lesson, too.
If you're looking for music for your soul to dance to, follow this regular disco-and-more night around Toronto. This three-member team used to be regulars at UNIT, then packed the house at Bambi's and Unlovable for some very seductive sessions. Experimenting with more offbeat venues, they recently hosted a pizza-fueled dance party at Amico's so you never know where they're going to pop up next. $5 cover.
Dance to the best of both worlds with this hybrid night. Loving brings a live-music component to its pop music dance party. It starts out with a DJ and ends with a big band cover set, which works well in an event/concert venue like the Great Hall at Queen and Dovercourt. Some of Toronto's best musicians get together to cover Top 40 pop songs. Think Matt Murphy covering Britney Spears. $10 cover.
This DJ and design collective describe themselves as Toronto's premiere underground open format dance event. It's been around a long time, has a devout following, and brings visual components to the dance floor along with rare grooves. The DJs produce animated and live-action videos that they project during the party to beats ranging from Deep House to Funk and Soul. $5 before 11 p.m. $10 after.
To change up the speed, check out an Uma Nota event for Afro-Brazilian, Latin, Caribbean, Funk and Soul music - and some culture. This Toronto event series started at The Gladstone in 2007, and now bounces between there and Lula Lounge on Dundas West. The heavy-sounding live percussion makes dancing lively and irresistible. Watch this events page for upcoming dates. $15 at the door.
Already famous for its jukebox offerings, this Dundas West bar hosts dance parties at regular intervals. Every Friday you can find one of their boogie events fogging up the windows. Examples include That Time Of The Month (all-female soul, Disco and R&B), Regretro (retro tunes, song requests welcome) and Barbershop (retro-soul "jam for dudes who like dudes"). Check out their schedule here.
This Koreatown spot delivers more than one weekly dance party, providing options for school nights and weekends. Throwback Thursdays bring 90s Hip Hop and Rap at 10 p.m. with a $5 cover (free before 11 p.m.) and every Saturday you'll hear Shake, Rattle, Roll's 60s Rock, Pop and Soul tunes (10 p.m., $5 cover). Clinton's is a pub that might be best described with a mullet euphemism - think dive bar up front, party in the back.
If you can stand to get a little sweaty and don't want to pay a cover, Bambi's has subterranean dancing on Saturday nights, but get there early because it gets packed. Expect Disclosure-sounding Neo House beats.