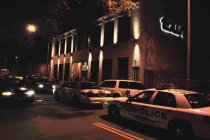 TOWN DANCEBOUTIQUE: Town is the biggest gay bar in D.C. The dance club, in a converted warehouse, is only open on Friday and Saturday nights (aside from a few special events), and it is the spot for weekend fun. Town boasts the area's best drag show, hosted by Lena Lett and featuring Miss Tatianna ("the Starlet of Town"), who starred in the second season of Ru-Paul's Drag Race. Set across two floors, the club features a music video party downstairs and a revolving crew of DJ's upstairs. The club hosts special guests and programming including winners from Drag Race, WTF?-themed parties around holidays, and Bear Happy Hour every Friday.
Town is located at 2009 Eighth St NW.
PHASE1 / PHASE1 OF DUPONT: Phase1 is not only one of the oldest queer bars in the area, but one of the oldest lesbian bars in entire country. The bar, now in its 43rd year in business, is a true landmark. Though the bar is old, it still thrills younger generations with an calendar chock full of DJ nights and performances from the D.C. Drag Kings. In addition to regularly scheduled programming, Phase1 has hosted its own music and arts festival (PhaseFest) for seven years.
In 2012, Phase1 the space occupied by the now-defunct Apex to create Phase1 of Dupont, a lesbian nightclub that rivals Town in size. While the club has been going through some growing pains, it hosts a wide variety of female-centric events like wet T-shirt contests and 90's nights.
Phase1 is located at 525 8th Street SE. Phase1 Dupont is located at 1415 22nd Street NW.
COBALT: Cobalt has been keeping things fresh since recovering from a fire in 2001. Though it's actually three venues sharing one building—Level One, the first-floor restaurant; 30degrees, a second-floor bar and lounge; Cobalt, the namesake third-floor dance club—no one will criticize you if you call it all Cobalt. The club is always introducing and hosting new dance parties, including the white-hot CTRL.