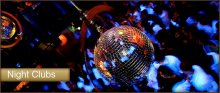 Club One |
1 Jefferson Street |
Savannah's #1 Dance Club and the Home of The Lady Chablis. Multi-level dance show and entertainment complex. Open 6 days a week featuring food, dancing, entertainment and games.
Jazz'd Tapas Bar |
52 Barnard Street |
Savannah's best tapas restaurant and live jazz entertainment. Jazz'd Tapas Bar is best described as "industrial chic." Yet Jazz'd Tapas Bar continues on in the tradition of locally owned businesses that made 5 and Dimes thriving retailers during their time.
Savannah Smiles Dueling Pianos Saloon |
314 Williamson Street |
Savannah Smiles is an audience driven, all request show. There are 4 talented piano players and the action is non-stop. Perfect for large groups, or just a night out on the town. Savannah Smiles Dueling Pianos was opened in December of 2000 and continues to be a great place to have fun and enjoy dueling pianos. Located in the Historic District of Downtown Savannah on Williamson Street, only a few steps away from the Best Western Promenade, Hilton Garden Inn, and DoubleTree Inn. It sits at the heart of an area that has several nightspots within yards of each other. A great place for celebrations as well as meeting new, fun, and exciting people. Savannah Smiles Dueling Pianos is like home, we extend the hand of friendship and open our doors to you.
The Jinx |
127 West Congress Street |
Savannah's favorite boozery and musiquarium, The Jinx is housed in the same building as the infamous Velvet Elvis from back in the day. We've been here since 2003 showcasing the best in local and regional acts of all genres, and will continue at doing so every day, every week, every year. Every night is something different here at The Jinx, but every night if full of good times, good friends, and a great vibe for all walks of life.