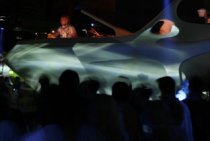 Frankfurt is a business town. Arriving by train from Berlin, the contrast hits you as soon as you exit the station: instead of graffiti there is gleaming glass, instead of punks with dogs on the streets there are lost Japanese tourists, instead of apartment blocks that wouldn't look out of place in communist Albania, the city center is punctuated by gleaming skyscrapers. Frankfurt is the hometown of Sven Väth and his Cocoon empire, nowadays one of the most successful ventures in dance music. From its humble origins as a monthly night at local club U60311 back in the nineties, Väth has built Cocoon Inc. up into a label, an Ibiza residency, a booking agency, a brand even. Since 2004, Cocoon has also been a fact on the ground: we've come to Frankfurt to check out Cocoon Club, Väth's 1500-capacity nightclub and restaurant complex. Sven is many things, a DJ, a party animal, an icon even, but the success of Cocoon proves that he is also a very astute businessman. In that sense, although he'd probably deny it, Sven is terribly Frankfurt.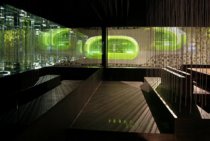 Cocoon Club is actually located miles from the centre of the city in a complex that from the outside looks like a cross between a gym and a furniture showroom. We catch a ride out there with Pig & Dan, Cocoon label regulars who fly in from Majorca to spin at the club three or four times a year. What do they think of the club? "Fantastic restaurant, " says Dan. "Of course we like DJing there, but the food – oh my god." Pig, a mountain of a man who admits he got his nickname because he loves his food, nods in agreement. "I come for the free meals, " he laughs.
Besides, you will be interested to read about ESTA for UK Citizens.
Yet despite its size and nondescript exterior, step inside and the club feels very much like a personal project. Like Väth's album artwork, the interior is both conceptual and gleefully over-the-top: the club is decked out as the inside of a cocoon, complete with biological membrane walls, organic pods for seating and an oozing green and yellow colour scheme. Tonight is a release party for Väth's Ibiza mix CD The Sound of the Eighth Season, so the kitsch factor is amped up to full throttle. We are greeted on the door by a gigantic fluffy bunny, while dancers on the podiums are dressed up Freakshow-style as Yoshimoto Nara-esque bad seeds or raver chicks with metre-long hammerhead pigtails. The circus has come to town.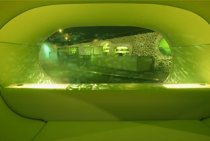 The DJ pulpit: Unusually for German clubs, the DJ booth rides high above the dancefloor.
Micro: Asian/European fusion cuisine that turns, Cinderella-like, into a second club at midnight.
But first there is food to sample. The club has two restaurants, both of which are priced to appeal to Frankfurt's gourmand set rather than your average raver (the hungry and poor can make do with the sausage stand on the other side of the club.) Open six days a week, one of the restaurants, Micro, doubles as a second room on club nights; they clear away the tables at midnight or so to make way for a dancefloor, where C-Rock, aka one half of Motorcitysoul, will spin tonight. Like in many second cities, Frankfurters talk about their town with stoic pride. Over dinner, C-Rock laments that his city doesn't get its fair shake in official techno history, citing the nineties Frankfurt sound, the Eye-Q & Harthouse labels, and legendary clubs like Dorian Gray and The Omen as unjustly overlooked. In fact, the sceptre of The Omen, where Sven Väth made his name in the nineties, looms over the conversation again and again tonight, and over Cocoon Club itself, too: perhaps Cocoon Club is Väth's way to reincarnate some of that Omen spirit.