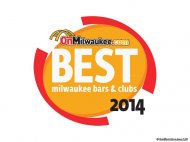 Drink up and up and up.
"Bar Month" at OnMilwaukee.com – brought to you by Absolut, Avion, Fireball, Pama, Red Stag and 2 Gingers – is back for another round! The whole month of February, we're serving up intoxicatingly fun articles on bars and clubs – including guides, the latest trends, bar reviews, the results of our Best of Bars poll and more. Grab a designated driver and dive in!
Thousands voted, and now it's time to unveil the winners. This year, we're posting the best of the best in one daily updating list. Along with your picks, we're also including editors' picks.
Check back regularly as we announce the winners all month. And don't forget to tip your bartenders.
Runner up: Malone's on Brady
Editors' pick: Jackson Blue Ribbon Pub
42 Lounge specializes in "all things geek" including gaming consoles, tournaments, themed cocktails and more. Plus, it's the ideal locale to talk "Star Trek, " "Star Wars, " "Dr. Who, " "The Lord Of The Rings" or what you plan to wear this year to Ren Faire. Geek out, Milwaukee.
Best Bloody Marys: Sobelman's
Runner up: The Wicked Hop
Editors' pick: The Wicked Hop
For the second straight year, Sobelman's took home the title of Milwaukee's best Bloody Mary. The brunch time favorite comes with 13 garnishes: celery, onion, Brussel sprout, lemon, pickle, shrimp, green onion, olive, cheese, mushroom, cherry tomato, asparagus and sausage. Oh, and a bacon cheeseburger slider. Because nothing beats a bonus burger.
Runner up: Horny Goat
Editors' pick: Barnacle Bud's
This category has not been a part of the OnMilwaukee.com Best of Bars voting since 2009. We brought it back, and you responded in force by naming Barnacle Bud's the best place to imbibe during the day. There are few places in the city that, on a warm, summer, weekend afternoon, beat sitting out on the edge of the river, drinking a beer and listening to music.
Runner up: Great Lakes Distillery
Editors' pick: Boone and Crockett
Bryant's has dominated the craft cocktail scene in Milwaukee for decades, and deservedly so. Plus, with their "depression era" cocktails, they've truly made Bryant's into a time machine into the past so good that we don't plan on coming back anytime soon.
Runner up: Milwaukee (MKE) Brewing Company
Editors' pick: Best Place at the Historic Pabst Brewery
Things have changed a little as the Lakefront business has grown. The facility has moved, but the spirit has stayed the same, and that's why you voted Lakefront Brewery as your favorite tour in this year's best of poll on OnMilwaukee.com.But you're not the only ones who love it. The Lakefront Brewery Tour is ranked the fourth best brewery tour in America by TripAdvisor. For $7, you get four 6-ounce pours of beer, and you must be 21 years old, or under adult supervision, to attend.
Runner up: Mo's Irish Pub
Editors' pick: Paddy's Pub
When it comes to Irish pubs in Brew City, you really love County Clare. The Lower East Side hotel bar and restaurant has nabbed the title of best Irish bar, as voted by OnMilwaukee.com, for at least the eighth straight year. With a small inn upstairs and a bar and restaurant with a cozy fireplace-equipped nook, County Clare is a welcoming bit of Eire on the lower East Side.
Milwaukee's Best Bar For Games / Trivia: 42 Lounge
Runner up: Landmark Lanes
Editors' pick: Burnhearts
42 Lounge – named for a reference in the book "The Hitchhiker's Guide To The Galaxy" – specializes in "all things geek" and revolves around gaming. Hence, the category win is well deserved. 42 Lounge also won Best New Bar this year.