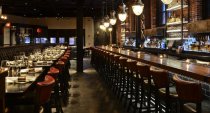 Boston Chops in the hip South End is Design Principal, Stephen Martyak's shining example of successful lighting. Photo Credit: Melissa Ostrow
A young woman walks into a bar. What does she notice?
"I usually take in the layout of the space, whether it's crowded or not, and what's on tap, " says Lauren D.
Lighting doesn't even make her list. But research shows and interior designers agree, every customer is impacted by a bar's lighting - whether they know it or not.
Back in the 70s, Dr. John Flynn conducted a groundbreaking study of lighting's effects on our moods and experiences. His conclusions show the lighting in a space determines whether someone considers the environment:
- Pleasant or Unpleasant
- Public or Private
- Spacious or Confined
- Relaxed or Tense
- Visually Clear or Hazy
In other words, every one of us, including Lauren D., is influenced by lighting when we walk into a bar. And if patrons' moods and experiences are affected, bar owners better pay attention to the message their lights are sending. Good lighting can equal increased sales.
Jennifer Glickman is the Principal and Owner of Glickman Design Studio. She's worked with several bar and restaurant owners in Boston to design their spaces. Jennifer says "the mood in the bar sets the tone for how long people are going to sit there and feel comfortable there, which of course then dictates how many drinks they're going to order. Alcohol is a high cost per square foot item so it behooves the owners to have patrons sitting there longer, ordering more drinks."
Lauren D. admits that lighting in a bar subconsciously impacts her mood, her appetite, and not only what but how much she orders to drink. "If the bar feels warm with the right amount of light, I'm more likely to stay."
When Lauren talks about the right amount and the warmth of light, she's referring to light's properties. Light, after all, is both a science and an art. We rely on light practically – to see inside after dark – and aesthetically – to set the mood and create ambience.
Stephen Martyak then must be both mad scientist and artistic genius as he designs posh restaurants (Boston Chops), happening music venues (The Sinclair), and popular bars (Bill's Bar) around Boston. While he is responsible for designing the space from top to bottom (lighting to floors), he finds lighting to be the MOST important element in generating ambience in a space. He says at his company, Studio Tyak, they devote the most time to searching for the right fixture and the right output.
Fixtures, outputs, warmth, oh my. Light has many properties or characteristics, and each affects the vibe in an establishment and in turn the customer experience. Here is a breakdown.
Color Temperature
Every light source has a different color temperature measured in Kelvin (not degrees). Color temperature, unlike body temperature, doesn't have to do with heat output. When you read "warm light" here, don't think heat lamp. Lower color temperatures mean more yellow or warm hues; the higher the Kelvin measurement, the bluer or cooler the light. Confused? Understandably. We usually associate higher temperatures with warm weather, lower numbers with cooler temperatures. It's the opposite with color temperature.
Is there a "right" temperature? Jennifer Glickman says amber lighting in the bar area evokes comfort and encourages people to drink more. Stephen Martyak adds, "it depends on the space, but in terms of enjoying a meal, you want a warm light on the color spectrum, around 2400K is nice." Cooler lights give off a greenish hue, making foods look unpalatable and faces unflattering.
While striving to realize a lighting vision, interior designers must also stay under budget and meet local construction codes. For instance, Stephen Martyak says he's required to use LEDs because of energy codes. The upside - LEDs use significantly less wattage and thus last longer, meaning lower electricity bills, the staff doesn't have to change bulbs out all the time, and owners need not fear lights unexpectedly going out on patrons mid-service.
The downsides – high initial cost and slim pickings. A good LED will cost $250, a halogen $20. With the fail rate of bars and nightclubs, owners may push back on the higher frontend costs. Secondly, LEDs are relative newcomers to the lighting scene. Manufacturers are continually improving upon their offerings, but Martyak says it's still a challenge to get the right color temperature out of LEDs.
He recalls opening The Sinclair two and a half years ago. "At the time we put in 3000K lights (significantly cooler than I would have liked or would have been desirable). Just a couple years later, the same manufacturer is producing 2700K bulbs." He says he designs with what he's got and figures out ways to overcome any such obstacles. For instance, if the lighting is putting off greenish hues, you can counteract with warmer paint colors.
Not the Brightest Bulb
Even at the right color temperature, lights turned too dim or too bright can detract from an establishment's ambience. Harsh fluorescent lights are used in fast-food restaurants for a reason. They're far from welcoming. The message is: grab your food, scarf it down, and be on your way.
In an upscale bar, on the other hand, dim light is the goal. Jennifer Glickman says to be especially mindful of the brightness when a bulb is exposed. You don't want it to be too blinding. On the flip side, "if it's too dim, where someone can't read the menu, that can become frustrating. That's something we consider too. You never want to see your patron holding their iPhone light up to the menu."
Kitchen lighting typically needs to be brighter so the staff can see what they're doing, but with an open kitchen concept, it's important the kitchen lighting is as pleasing to patrons as the bar and dining room areas. Here's where Glickman recommends layers of light -