CONTACT INFORMATION
MARACAS NY NIGHT CLUB 121-08 JAMAICA AVENUE, RICHMOND HILL, NY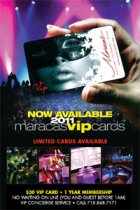 Maracas NY Night Club would like to 'Thank You' for visiting our website and we hope that you were able to find everything you were looking for. Whether you are a long time visitor or just happened upon us for the first time, we value your feedback! Before you leave please take a moment to fill out our form and let us know what you think. Our goal is to make Maracas NY Night Club the premiere source of entertainment in Queens, New York. We invite you to check back with us over the next 8 to 12 weeks and let us know how we are doing. All ideas are welcome and appreciated! We hope to build a user friendly website that exceeds all expectations for everyone who appreciates good entertainment and with your help, we know we can!
Mailing Address
Maracas New York Night Club
121-08 Jamaica Avenue, Richmond Hill
New York 11418
Phone : 718.848.7171
WIN Caribbean
WIN Caribbean HD located in Trinidad has become the number one television station for Indo Caribbean nationals. Featuring some of the best entertainment, health, news and fashion programming available today. For more information and tickets please contact Maracas Hotline at 718-848-7171 or email us at
Le Carnavale
Maracas Nightclub and Lounge in collaboration with WIN Caribbean presents LE CARNAVALE SATURDAYS EACH and EVERY SATURDAY during the month of February. Featuring music by the hottest DJs in New York City. This is the place to be each and every week. For more information contact Maracas Hotline at 718-848-7171
Soca 360
Maracas Nightclub and Lounge presents SOCA 360 featuring LYRIKAL, PREEDY and PETER RAM. Music by Milo Myles, DJ Ace and DJ Emile. Saturday March 19, 2016 at the hottest Nightclub and Lounge in New York City. Advance Tickets are available and
Chutney Soca 2016
Distributed by Masala Records Incorporated CHUTNEY SOCA COMPILATION 2016 featuring KI & The Band, Crazy, Veekash, Hunter, Ravi B, Nishard M, Kenneth Supersad, O'Neil Bhajman, Drupatee Ramgoonai featuring Destra Garcia and much more. For more information contact Maracas Hotline at 718-848-7171.