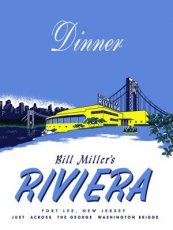 WHAT: "A Night at The Riviera."
WHEN: Noon to 4 p.m. Saturday and Sunday, 7 to 9 p.m. Wednesday. Through Feb. 2.
WHERE: Fort Lee Museum, 1588 Palisade Ave., Fort Lee. 201-592-3580, thefortleehistoricalsociety.org.
HOW MUCH: Free.
Back when there was no business like show business, there was no club like Bill Miller's Riviera in Fort Lee – which closed its doors 60 years ago today.
It was so good you could almost forget how bad it could be.
"First of all, they were serving dinner while you were telling your jokes, " says comedian Larry Storch, who played The Riviera in its heyday.
He'll be hosting a holiday tribute, "New Year's Eve at Fort Lee's Riviera Nightclub, " tonight at Fort Lee's In Napoli restaurant. While the $100-a-plate event (legendary "Raging Bull" boxer Jake LaMotta will also be attending) is already sold out, you can still get an eyeful of the old Riviera stardust at the Fort Lee Historical Society, whose commemorative exhibit "A Night at The Riviera" runs through Feb. 2. They've got menus, photos, artifacts and instruments.
"When you did well there, you really felt you deserved a couple of medals, " says Storch, 90, proba-
bly best remembered for his role on TV's "F Troop."
"It was a big stage, " Storch recalls. "It was like being in Yankee Stadium."
Back then, Fort Lee was bracketed by two landmarks on the Palisades cliffs. South of the George Washington Bridge was the late, lamented Palisades Amusement Park, which folded in 1971.
On the north side of the bridge was Bill Miller's Riviera, whose big red sign beckoned to New Yorkers across the river with the promise of swank galore: starlight dancing, valet parking and a roster of A-list stars that included Frank Sinatra, Dean Martin & Jerry Lewis, Sammy Davis Jr., Louis Prima, Bing Crosby, Bob Hope, Lena Horne, Sophie Tucker, Eddie Cantor.
Though the approximately 1, 000-seat venue closed in 1953 to make way for the Palisades Interstate Parkway – portions of the concrete foundation and steps can still be seen today — it lives on in the memory of many North Jerseyans.
"It was a gorgeous art deco building, " says Judith Miller, the well-known reporter, formerly of The New York Times (she's now a Fox News contributor), who was a 5-year-old growing up in Englewood when her father ran North Jersey's showplace supreme.
"It would never have been torn down today, " Miller says. "It was the Penn Station of nightclubs."
Among the lavish features of Bill Miller's Riviera: a revolving stage, a revolving dance floor and a retractable roof for dancing under the stars.
"Remember, this was before air conditioning, " says Tom Meyers of the Fort Lee Historical Society. "You would get all these breezes from the Hudson. It was almost like you were dining outdoors."
The big yellow art deco club with the red sign, which opened in May of 1937 (it replaced an earlier venue that burned down in 1936), was considered the last word in Moderne luxury. It was certainly an eyeful for at least one toddler who had the run of the place in the early 1950s. "I remember the elegance of the place, and the glitter, and the showgirls, " Miller says. "These huge kind of Amazonian gorgeous babes."
Like Palisades Amusement Park, The Riviera was a huge local employer: Many a Fort Lee youth got his first job as a waiter or busboy.
Unlike Palisades, the entertainment was of a distinctly adult variety. Including – for a time – illegal gambling, which drew many of New York's highest rollers, chased out of the city by Mayor Fiorello LaGuardia's anti-vice crusades. It's unclear whether this happened on Miller's watch, or only during the tenure of the previous owner, Ben Marden.
"You would walk through a janitor's closet, " Meyers says. "In the closet was a big stand-up fan. You could plug it in, and then the big opposite wall would open up, and there was a secret entrance ... to gambling on the second floor."
That was before World War II, Meyers says; it was gone by the time Storch was performing there, in the 1950s. For Storch, the stakes were high enough without it.
"You had to be boisterous, loud, " Storch recalls. "I did impressions, various Hollywood personalities. I did a crazy tango, all by myself, with an imaginary partner. And I was beginning to do a yoga bit. I had studied yoga. I would show the audience how to do the lotus position. And I couldn't get out of it. Waiters had to come from the audience to carry me offstage."
Storch was one of many younger performers nurtured by the late Bill Miller, known for his keen eye for talent, and his loyalty to the people who had it, regardless of race, creed or circumstance. It was at Miller's Riviera in 1953 that Frank Sinatra, considered a washout in the early 1950s, rolled out his new sound, new style and new arranger, Nelson Riddle: the beginning of the legendary Sinatra comeback.
"Frank was so grateful to have the opportunity to play again, " Miller says. Years later, when Sinatra — by then a monster star — worked for Bill Miller at another venue, he only charged Miller what he had charged for that Riviera gig in 1953.
"Every year we got a bottle, or a case, of the best wine or the best scotch, " Miller recalls. "Sinatra was somebody who remembered."
Someone else who remembers: Storch.
He'll always be grateful to The Riviera, and the other 1950s clubs – most long gone — that allowed him to hone his skills as a clown and a mimic.
His "Judy, Judy, Judy, " uttered in a Cary Grant voice when he spotted Judy Garland in one of his audiences, instantly became the standard-issue Cary Grant impression. He later took his skill set to TV, where he won fame as a sitcom actor and cartoon voice-over talent (Mr. Whoopee in "Tennessee Tuxedo, " The Joker on "The Batman/Superman Hour"). Storch will receive the Fort Lee Film Commission's Barrymore Award tonight for lifetime achievement in film and television.
But his time in North Jersey, at the Riviera and elsewhere, must have made an impression on the master impressionist. When his "F Troop" character, Corporal Agarn, was asked in the show where he was from, Storch blurted – it wasn't in the script — "Passaic!"