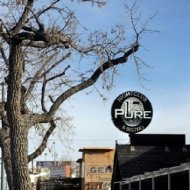 13 Pure, a nightclub in downtown Colorado Springs, has been the scene of violent incidents, some involving guns. A co-owner said the club is not responsible for its patrons actions outside its doors, and increasing violence in all of downtown is to blame for recent incidents, including a shooting Sunday. Photo by Bryan Oller, The Gazette
The "wild west" nature of downtown Colorado Springs at night is to blame for a string of violent incidents, including a recent shooting, outside the 13 Pure nightclub, a co-owner of the bar said.
Michael Laughlin said his club isn't responsible for what happens outside its doors and blames an overall increase in crime downtown for the violence.
"There's a limit of what we can do, " Laughlin said. "We can't control what people do before they come in the club, or after they leave."
He said everyone who comes into the club is patted down, checked with a metal detector and has his or her bags are searched. Once patrons are out the door, he said, they are someone else's problem.
But police say 13 Pure is responsible for attracting a clientele that's more likely to be violent than patrons of most other clubs downtown.
They cite statistics in the first six months of 2009 that show police were called to 13 Pure, 217 E. Pikes Peak Ave., 164 times or nearly every day, January to July.
"We don't know with any certainty why this club seems to attract individuals who later engage in illegal activities, " Colorado Springs Police spokesman Lt. David Whitlock said. "It's something that we're concerned about and we want to understand."
He cited the most recent incident, early Sunday, when police were called to a mob scene outside 13 Pure.
Several people were firing guns, including a police officer. One man was shot and taken to a hospital, and the officer involved was put on paid leave until an investigation is completed.
But that's just the most recent in a long list of violent incidents outside the club that include:
• On Dec. 6, a man who had left the club was shot at as he drove from a nearby parking lot. The bullet hit his windshield, just missing his head.
• On Dec. 4, a club bouncer chased down a patron who had been in a fight inside the bar. When outside, the man pulled out a knife and threatened to stab the bouncer.