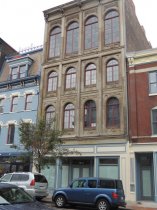 Located at 1313 Vine street in Over the Rhine, Cosmopolitan Hall, which was most recently known as the Warehouse nightclub, has pretty much sat empty since that club closed in 2004. You can't really tell from the outside, but this is a huge building. It stretches from Vine Street to Republic, and is estimated to have a total of around 27, 000 square feet, which includes two sub basements.
It was built in 1855 as a beer garden and dance hall, replacing a brewery that originally existed on the site. From 1878 to 1882 it was called the "Tivoli Beer Garden." In the 1880s, it became a dance hall, and, in the 1890s, was renamed Cosmopolitan Hall. Over the decades, it was used for several different things, including a Prohibition-era speakeasy, an indoor golf complex, insurance offices, a lighting retailer, a wallpaper store, and, of course, The Warehouse. In the early 1990s, the second floor dance hall was renovated for scenes in the movie A Rage in Harlem.
Below all this sits the 2 sub basements. These are massive, but it's the lower level that is something to see. It's a 4, 400 square foot, two-chambered vault running the length of the building, with 20 foot, barrel-vaulted stone ceilings. A remnant of the brewery that was here originally, the wood plank floor is rotted and basically destroyed.
Of course, as with any abandoned building this old, there are stories of ghosts and such. Haunted or not, it's worth checking out if you ever get the chance.