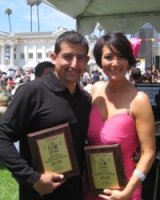 Who I Am
Jesse "Chuy" Rodriguez... aka Chuy RumbaBuena
Local Salsa Instructor and Performer Since 1999. I have brought Many, Many Bands
and Dance Champions to the 805 from Santa Barbara to Simi to Moorpark in the last 10 years.
Bonnie Weigel, CEO of Ventura County´s largest regional food bank and Jesse "Chuy" Rodriguez, recently won two top honors at the 3rd Oxnard Salsa Festival´s Dancing with the Community Stars event.With 3 weeks of salsa dance training from Dance Instructor Jesse Rodriguez, FOOD Share CEO Bonnie Weigel helped to raise more than $43, 300 for FOOD Share through donations, winning the People´s Choice Award. The dynamic duo also took home the Judge´s Choice Award in the technical competition.
The FINALS!!! 2009 Top Male Salsa Competition @ Stevens Steak House.
10 Incredible dancers. IT was a 3 way Ties for 1st place.
We Each got 120 points. Judges picked Erik for 1st, Ricky 2nd plc, and Me "CHUY" for 3rd Place.
805 brought home 2 Trophy's. Thank you to everyone that believed in me and supported me. I love you all.
The idea of having a solo competition where dancers rely on their own skills to prove that they could be at the top of the scale against other very good dancers, is a very innovative and interesting proposition, indeed. In its 3rd year, Steven Steak House's "Top Male Salsa Competition" in Los Angeles has become very popular and attracts the interest of great dancers who want to compete and numerous salsa lovers who simply to watch. There are no preliminary rounds, only a semi-final and final round, to avoid losing interest as weeks go by if there were qualifying rounds. There are judges at both stages of the competition and dancers go on, one by one, to showcase their dancing skills. Certainly, a great way to entertain a crowd and create a superb adrenaline-filled environment where competitors can display themselves.
SalsaHook.com wishes to always congratulate the efforts of all the organizers, David Nieto, Miguel Aguirre, the owners of Steven's Steak House, and all the people involved in making this a reality.
The event was a true success. Arriving to Steven's Steak House on both nights, qualifying and final rounds, for both levels of the competition, semi-pro and pro, gave you a very good feeling about what was in store for the audience. This year, more than in other years, competitors really took their showmanship to a different level. They came with choreographed routines, professional costumes, and representing various dance teams in Los Angeles and other places.
This was not a "free-style" type of competition, as many had expected by the idea of single guys dancing in front of a crowd.
The night of the Finals, the organizers decided to do both levels of competitions, semi-pro and pro, on the same night.
The winners of the 2009 Top Male Salsa Dancer competition were:
Semi-Pro Division
1st Place - Armando Ramos (Los Rumberos)
2nd Place - Alfredo Martinez (Salsabor y Cache)
3rd Place - Julio Martinez (Magic Mambo)
Pro Division