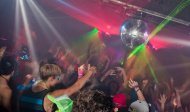 Atmosphere & Drinks
Kryptonite is permanently closed
Kryptonite was an underground 18 and up EDM dance club located in the downtown area of Houston, TX. Kryptonite brings in big name DJ's from all around the world to this underground EDM cave. The venue has a large dance floor, a disco ball, light shows and a great sound system. Expect large crowds on Thursday and Friday with the primary demographic being 18-25. Come early to avoid any line and expect the entrance to look a little shady, but once inside you'll find it's not so bad. The bathrooms are generally terrible but the venue itself is great for an EDM and top 40 exclusive underground dance club.
Dress Code & Happy Hour
Dress Code: Dress code at Kryptonite in Houston is not enforced. Dress to impress or come casual to dance.
Happy Hour: Kryptonite does not offer happy hour prices.
Business Hours
Wednesday – Friday: 10:00 pm – 10:00 am
Directions
77002 Phone: (832) 298-4504