Come experience Blue Label and see why they are one of the most sought after cover bands in the region.
HIGH FIVE SWAN DIVE
Saturday, March 5th
(Rock/Pop)
High Five Swan Dive is a high-energy cover band from the Philadelphia area that does more than simply perform your favorite songs. H5SD deliver a captivating musical experience that will compel you to dance and sing along. Vocalists Allison and Matt invite you to lose yourself in the present moment with their charismatic versatility. H5SD's creatively arranged repertoire spans from the glory days of classic rock to the hottest modern dance, pop, and rock tunes. H5SD provide unforgettable and special moments at all of the biggest events, parties, weddings, nightclubs and casinos. High Five, friends!
GROOVE SQUAD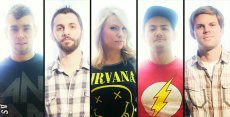 Friday, March 11th (R&B)
Featuring the funk-drenched dance songs you've come to know us for, and adding some new twists you didn't see coming; original material, new songs, an evolving set list! Groove Squad invites you our friends, to come sing, dance, and sweat like you never knew you could. It's going to be a party, a show, and a pleasure. We are excited to be back, together, and ready to bring the fun to your venue, club, or event.
CRAZY IN STEREO
Saturday, March 12th
(Party AC)
Crazy In Stereo is just that – Crazy fun! Crazy In Stereo plays everything from old and new rock, dance and pop, to R&B and country. Crazy In Stereo covers your favorite club jams like Usher, Taio Cruz, Bon Jovi and Journey to get your booty shaking and rock hits by Queen and Bruce Springsteen to get your fists pumping. Plus they can put some twang in your thang with John Denver and Taylor Swift. With Crazy In Stereo, everybody sings, everybody dances and so will you!
SOUTHERN DRAWL
Friday, March 18th
(Country)
This country band likes to mix it up with a little classic rock. It seems to be the right recipe to get everyone on the dance floor. Covering artists like Luke Bryan, ZZ Top, Brantley Gilbert, Lynyrd Skynyrd, Blake Shelton, Brooks & Dunn, Elvis, Kenny Chesney, Hank Williams Jr., Jason Aldean, and Johnny Cash, we have a little something for everyone. So you bring your party and we will bring ours, and we will have a great time, guaranteed.
GROUP THERAPY
Saturday, March 19th
(R&B)
With the addition of the two new singers, Heidi Porter and Ty Brown, Group Therapy continues to perform its solid repertoire of dance songs. The band prides itself on tight harmonies, impeccable horn lines, solid rhythm and melodic passages all woven around decades of popular dance songs. Group Therapy continues to be successful due to their collective experiences and uncompromising desire to provide quality musical entertainment.
THE BENDERZ
Friday, March 25th
(Rock/Pop)
The Benderz are a touring cover band based out of Philadelphia, PA. Playing music to thousands of fans all over the country, every show that they play is a high-energy event! The Benderz are a well-schooled, committed, and highly professional attraction. Off-stage, The Benderz are practically "family". They constantly welcome new fans with open arms and rocking performances. The Bendez love what they do, whether in a high profile night club, casino, corporate event or wedding, The Benderz always bring the party!
HOT TUB LIMO
Saturday, March 26th
(Pop/Rock)
Hot Tub Limo's fusion of different musical tastes, facial hair and whiskey fuels an unstoppable drive to entertain the masses and see the world. After months of practice the group landed their first gig on St. Patrick's Day 2010. Developing a local following for their rocked up versions of top 40 music the band started landing regular gigs. Throughout the course of 2012 the band spent any available time between two studios, The Crayon Box and The Elsewhere Room, where they recorded their first album of all original music. The album titled "Champagne In Prison" was released in January of 2013.