Over the last nine years, the Syndicate nightclub on Nelson Street – the largest club spot in Bristol – has welcomed more than 3.5 million clubbers and seen performances from the likes of Faithless, The Prodigy, Pete Tong, Armin van Buuren and even 'The Hoff' himself, David Hasselhoff.
On August 22, the opinion-dividing club held its official closing party to celebrate the end of an era and some were quick to declare it another example of the continuing decline in the popularity of nightclubs. We can blame Tinder for this, apparently.
However, it seems any fears about the destination being permanently closed were premature: the closure of Syndicate was necessary to enable the club to be handed over to new owners. It has already been rebranded, revamped and has opened its doors.
Although the official opening date has been marked for Saturday September 5, the newly-launched held its first club night on August 30. The sell-out KISSTORY event saw sets from DJs Steve Smart, Dixon Brothers and Mike Delinquent. There was also a guest DJ set from Pied Piper and live PA from Shola Ama.
Next up for the 1, 800 capacity venue will be its regular Saturday night event, 'Codec'. The three floors of music will cover house, R&B, hip hop, old school, garage and more. SWX Bristol also boasts a £300, 000 sound, lighting and laser system with an interactive video wall that the club claims is the first of its kind in the UK.
Later in the month comes the first 'Make It Rain' night. Held on Sunday September 13, the event will see the 'bank of SWX' firing out dollar bill-style raffle tickets into the crowd, which will no doubt consist of freshers who are already putting their student loans to the test. The winning ticket will be awarded £1, 500 in cash live on stage.
For those who don't win the compensation includes local DJs playing party anthems, remixes and bootlegs all night long. You can find tickets for these events here.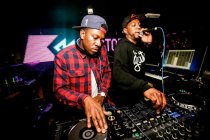 Phat Events