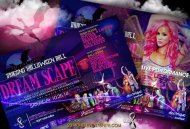 Line-up /
Lou Douva, Left/Right, Kelly Reverb, DJ Merritt, Demarkus Lewis, DJ Love, Rick Estey, So Paul w/Lisylee, SnoWhite, RZN8, Mind Fabric, St Wilson, Storm-E, Iceman, Ragman
Greetings loyal Dragonballers and new friends.This is the Halloween event announcement that you've been patiently waiting for. Now going on our 15th year we are excited to announce our first ever Dragon's Halloween Ball weekend event that includes everything you have come to love & expect from a Dragon's Ball event and so much more. This year we've enhanced the best parts of each DHB over the years, added some new exciting features and activities to make it more interactive and better than ever. But with so much to do we had to a 3 day party weekend. So get your costumes and body paint ready cause you're in for many treats this year. Our theme this year is "DreamScapes" where dreams and fantasies become reality. We are taking over Club 8 and the Wyndham Garden Dallas North hotel (Formerly the Night Hotel) which offers the most spacious, modern and elegant "Vegas" style party venue in Texas with 350 hotel rooms! The newly renovated hotel is perfect for an exciting weekend long DHB event complete special DHB weekend room rates on Friday, Saturday and Sunday with a 2pm late check out and "Sunday Fun day" DHB Brunch with closing ceremony too (DHB Hotel Rates). Club 8 will be decorated in a fantasy Dragon Castle Theme complete with fun interactive photo areas from a live snake pit, torture chambers and the Dragon's throne and treasures to name a few. Laser light shows in two themed dance areas, various live performances on 2 separate stages, amazing body painted entertainers, over 15 DJs throughout the weekend and the unveiling of the new 2014 Dragon Goddess (B Egan) by our featured body artist (TBA). We have plenty activities planned for Friday, Saturday and Sunday and it is all covered with 1 ticket price so get your tickets now before we sell out. Last year we SOLD OUT EARLY and the venue we had couldn't accommodate our amazing crowd properly so this year we have secured the BEST & BIGGEST possible venue (with NO elevators = NO WAITING in lines to get you to the main party areas) with the CLUB 8 award winning staff and VIP hosts on the planet. We added some really fun and interactive things to do before and after the Dragon's Ball night so you can make this year's Halloween celebration a one stop destination for all your Dragon's Ball party needs (see 2014 DHB Weekend "Quick Glance & Complete Juicy Details" below). Our goal is to present the most entertaining & interactive fantasy themed costume event on the planet while making it easy for you to get all your Halloween essentials to make your Dragon's Ball experience the best it could be year after year (see the Saturday Oct 25th noon-6pm complete juicy details below). So get your costumes ready and don't forget to check out our official costume sponsor page "Electrique Boutique" and use this promo code (DB25) for on line or in store 25% costume and accessory discounts. Most importantly…Don't forget that we do this not just for the fun of it but to create more awareness and help raise money to support a few local charities/non-profit organizations like ArtLoveMagic, TSRHC, Big Brothers and Big Sisters and WhoSoEverWill (please click links to each worthy charity if you're feeling generous and want to donate privately or even if you can't make it to this year's DHB but want to support these charities…thank you).
Lots of new party details and activities planned this year so we have broken down the Event Details to a "Quick Glance" and "Complete Juicy Details" so you can quickly get the facts or dive deep into what's planned. Thank you for your time and we look forward to a great 2014 Dragon's Halloween Ball Weekend!
*This event is only for adults +21
2014 DHB Party Weekend Agenda (QUICK GLANCE):
Friday - 1st Annual DHB Eve HH Reception, Live Body Paint Demo, Pajama Party with interactive Fashion Show *Attire: PJs or anything you sleep in...