By Alessandra Frosoni (30 Dec 14)
Tags: 24/7 bars, late night bars in london, bars open after midnight, early hours bars, where to drink late in london, 24 hour drinking, all night bars in london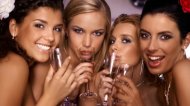 For the lovers of booze and partying into the late night and wee hours, who stay out and about with friends enjoying life until you drop, the following venues are among the best bars, clubs and restaurants in London. Offering food and drinks all night long, if not 24/7, this guide is "la crème de la crème" in terms of partying locations in London.
1) Bar Italia
Bar Italia is everyone's mecca at 5am in London. Whether you need alcohol or simply a coffee with some food and football to watch, Bar Italia is ready for you. This 24 hour bar is popular amongst celebrities as it is one of a kind and in the heart of naughty Soho. The prices are, overall, also quite affordable, considering location and allure.
2) Vingt-Quatre
VQ is a diner in West London that serves alcohol 24 hours a day. This is not a partying venue but the right place to chill with friends and talk about the night's adventures whilst sipping on wine in the early hours. It's also an excellent spot to sober up over their 24 hour breakfast dishes.
3) Egg
Egg is a late night club in London, hosting some of the best DJs from around the world. It has been classified has one of the best dancing spots in London. The weekend parties here are legendary. These parties go on all night long, as this is a 24 hour bar and club on a Saturday night. Egg closes at 10am on Sunday mornings. Is that too early to stop drinking?
4) Heliot Cocktail Bar at the Hippodrome Casino
The Hippodrome Casino, in Leicester Square, is more than an oasis for gamblers and has a number of different attractions for guests of all kind. Boasting six bars (with 24 hour license), a restaurant and a 24-hour food service, it provides the whole package right in the heart of the City. Situated on the first floor, the Heliot Cocktail bar is an ideal space from Thursday to Saturday to experience a party environment with DJ's from 8pm. An open but familiar space, the bar has a number of screens showing big live sporting events and is the perfect place for late night, after work drinks, nights out and pre theatre cocktails.
5) Carlsberg Sports Bar at The Casino at The Empire
Casino at the Empire, in the centre of Leicester Square, is the right location to be after a night at any of the Soho clubs, when you still feel like being on the go. The venue is opened 24/7, perfect for some 6am Black Jack and tasty cocktails: a breakfast deserving Great Gatsby status. The fashionable hangout includes the appealing Carlsberg Sports Bar: an exclusive addition to the London bar scene. It offers drinks and sport 24/7: state of the art big screens, packages to learn how to play poker and roulette; a comedy club; and cocktails making classes!