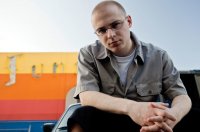 Grynch Sounds Off On Seattle Hip-Hop
A hip-hop track about a 23-year-old Volvo sounds like a joke, but Seattle artist Grynch is totally sincere when he raps, "I've laughed in that car/I've cried in that car/Knock on wood, man, I'll probably die in that car." The emerging rapper, who's been getting heavy airplay on Seattle's tastemaking radio station KEXP, has released an album and an EP, and has been featured on several mixtapes.
Grynch's next album, "Chemistry 1.5, " which includes tracks from his "Chemistry" EP and several new songs, will be released Oct. 6.
You grew up in Seattle and went to Pacific Lutheran University in Tacoma, Wash. - not exactly a typical hip-hop background. How did you get interested in rap?
Grynch: I grew up listening to the radio and a lot of West Coast hip-hop - Snoop and Dre and Warren G, all those guys. I was really into gangsta rap, even though I'm the least gangsta person ever. I started writing rhymes as a kid and just kept working at it. Seattle also has a great hip-hop scene, and when I was in college, I spent a lot of time going back and forth between Seattle and Tacoma, which doesn't have such a hot scene [laughs].
For a city known mostly for grunge and indie rock, why do you think Seattle has a strong hip-hop scene right now?
The hip-hop scene is Seattle is incredibly diverse - you've got people from all walks of life coming out, and it's really welcoming. Groups like Blue Scholars are blowing up, and they're willing to help others out and pull them up, too. It's happening slowly but surely. KEXP is also instrumental. The commercial hip-hop station is OK - they have a Sunday-night show for local music, but that's about it. But KEXP has shown huge love to the local alt-rap scene. They take risks with their programming and mix stuff up.
Everything you've released so far has been on your own. Are you looking for a label, or do you want to keep doing it yourself?
I'm working on my next album right now, and I'd love to work with the right label. I'm doing lots of research and trying to find a good fit; for example, I love Rhymesayers. I think I've done well on my own so far. I've gotten a lot of great shows and blog love and connected with people through social networks, but I feel like I'm hitting my capacity.
You play at clubs normally associated with indie rock, such as Chop Suey and Showbox. Is it hard to convince more rock-centric bookers to put you on bills?
Honestly, people are chill for the most part. More clubs in Seattle are booking hip-hop. For a while it was hard, but now bookers have realized there is an audience they need to get. I've played shows with all types of bands, and I've been fortunate enough to open some great shows. I opened for Nas at Showbox, and I'm opening for the Clipse later this year.
Your lyrics are honest and self-deprecating; your best-known track, "My Volvo, " is a love letter to your '86 Volvo. Why stay honest and not spin yarns about babes and sports cars?
Man, I'm from [middle-class Seattle neighborhood] Ballard. There is nothing bling or gangsta about someone from Ballard, and I just can't front like that. It doesn't make sense to me to lie about who I am or what I love. I rap about my car and the fact that Ballard is gentrifying and Denny's is now a condo building because that's what I know. Don't get me wrong, I listen to Jay-Z and I love hearing him talk big, but at least he really lives it. A lot of guys, it's all borrowed for the photo shoot.
What are your plans for the rest of the year? Will you be touring?
I'm doing a West Coast tour in November and playing some shows in Seattle. I know I need to get out of Seattle more, though - I'm going to be in New York for CMJ, and I need some shows, so if anyone wants to book me, hit me up [laughs].